13-Yr-Old Emerges Best at 2014 Cowbell Maths Competition
---
---
The 2014 Cowbell National Secondary Schools Mathematics Competition (NASSMAC) final stage result is out. 13-year-old Akintokun Adegboyega emerged winner in the senior secondary school category. While Deborah O. Adesina emerged winner at the junior secondary school category.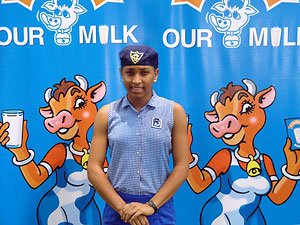 MASTER Akintokun Adegboyega and Miss Deborah O. Adesina recently emerged winners in the senior and junior secondary school categories at the 2014 Cowbell National Secondary Schools Mathematics Competition respectively.
While 13-year-old Adegboyga of Ota Total Academy, Ogun State, scored 87 points to lead his category, Miss Adesina, 13-year-old of Graceland International School Port Harcourt, Rivers State, scored 81 points to win the junior category.
The second and third positions in the senior category were won by Fiyinfoluwa Abioye, (15), of NTIC CO-ED, Wuse 2, Abuja, who scored 85 points and Babalola David (15) of Oritamefa Baptist Model School Total Garden, Ibadan, Oyo State in that order. David scored 83 points.
In the junior category, Atolagbe Yusuf Olayinka aged 13, of Nigerian Turkish International College, Isheri, Ogun State, finished second while 13-year-old Miss Johnson Stella Doris of Reality High School, Ilesa, Osun State came third.
The winners including seven others from each of the senior and junior
categories went home with cash prizes, laptops, trophies, medals, certificates among other things.
The supervising Minister of Education, Mr. Nyesom Wike, while speaking at the event, stressed the need for stakeholders to leave no stone unturned in their bid to stem the rising phobia for mathematics among students.
Represented by a Director, Federal Inspectorate Service Mrs. Choma Philip, Wike said Nigeria's realisation of its dream of being a technological giant depends on the solid base we lay today in mathematics, which serves as the foundation of all sciences.
He lauded Promasidor Nigeria Ltd for being actively involved in the drive towards developing the standard of education in Nigeria.
On his part, the Managing Director of Promasidor Nigeria Ltd., Oliver Thiry said the 14th edition of the contest reaffirmed the support of the company for youth development and commitment to the country. (Guardian Newspaper)