ABUAD Engineering Programmes Get 100% Accreditation
---
---
Afe Babalola university, ABUAD Engineering programmes get National Universities Commission (NUC) full accreditation.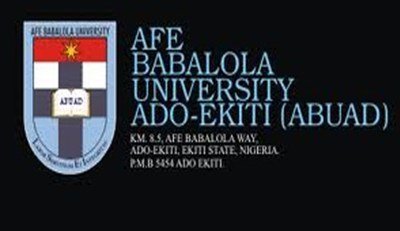 Afe Babalola University, Ado-Ekiti (ABUAD), the fastest growing private university in Africa, the pace-setter and reference point in quality and functional education, has secured a 100% full accreditation in the all the seven Engineering programmes it recently presented to the National Universities Commission (NUC) for accreditation.
This is following in the mould of other programmes previously submitted to the NUC and other Professional Bodies and from which the five-year old university which commenced academic works on January 4, 2010 equally scored 100%.
In a February 20, 2015, letter signed by the Deputy Executive Secretary, Prof. C.F. Mafiana, the NUC listed the seven Engineering programmes are Chemical Engineering, Civil Engineering, Computer Engineering, Electrical & Electronic Engineering, Mechanical Engineering and Mechatronics Engineering as well as Petroleum Engineering.
The University's gigantic College of Engineering, the biggest in Africa, which was commissioned by President Goodluck Jonathan on October 19, 2013, is built on two-and-half hectares of land and has four huge blocks of four floors each and additional four huge bungalows for a world-class FESTO Engineering Workshop with equipment from the US and Germany, a Mechatronics Workshop, a Foundry and a Wood Work Workshop fully furnished with multi-million Naira modern laboratory teaching equipment very rare to find in this part of the world..
Apart from the Provost's massive office, it has innumerable classrooms, 37 laboratories equipped with modern and sophisticated equipment, several Auditoriums, Computer/E-Libraries, 100 Air-conditioning units, a warren of teachers' offices, accommodation for Post Graduate students as well as thousands of physical books and e-books.
According to ABUAD's Founder, Aare Afe Babalola, SAN, both the gargantuan Engineering Complex and the world class equipment therein will be unveiled to other universities and some Engineering outfits in April to avail them of the rare opportunity of what he is doing to achieve his purpose of leading others by example in the entrenchment of quality education and regaining the lost glory of education in Nigeria and by direct inference making it the only private university in Nigeria running the programmes of Law, Medicine and Engineering.
This recent accreditation of its Engineering programmes brings to three the number of such core professional programmes where ABUAD is making waves. The others are Medicine & Health Sciences and Law.
ABUAD has the unequalled and unparalleled record of securing full accreditation in Medicine within five years, no wonder the Medical and Dental Council of Nigeria (MDCN) and the Special Committee set up by the Hon. Minister of Health all commended the array of high quality equipment in ABUAD's Medical College and the gigantic and modern buildings and equipment worth over N2.5 billion put up by the Founder of Afe Babalola University, Ado-Ekiti (ABUAD), Aare Afe Babalola, SAN, to get the former Federal Medical Center, Ido-Ekiti upgraded to the status of Federal Teaching Hospital.
The Minister of State for Health, Dr. Khaliru Al-Hassan, was so impressed with what he saw on November 15, 2014 at the Federal Teaching Hospital which now has now has a prestigious three-storey male and female hostels, dining hall, library, four fully-equipped laboratories, well-furnished classrooms, auditorium and sporting facilities that he said that it will be difficult for any university to match what ABUAD has done in Medicine which secured full accreditation for its Medical programme, an uncommon feat by any standard.
The university's Law programme is unique in many ways. No wonder then that the Executive Secretary of the NUC, Prof. Julius Okojie, dubbed as the Best Law College in West Africa. The Council for Legal Education was not just satisfied with the quantum of human and material investment in the College of Law which has tested and experienced teachers of international repute, but it went a step further to increase the College's annual admission quota from 50 to 180, the highest so far in this country.
Among the facilities in the Law College are 10 different classrooms, teaching laboratories, one Moot Court, two Law Clinics, state-of-the-art E-Libraries and physical libraries, a staff/students ratio of 1/16, E-software, Lexis Nexis and Compu Law among others which can conveniently cater for more than 1,500 students.