UNDP/FCMB 2022 Agro-Hack Challenge & Summit
UNDP/FCMB Agro-Hack Challenge & Summit 2022 for Nigerians | $30,000 funding support.
Are you in agribusiness, or do you have an AgriTech solution that addresses issues in the agricultural ecosystem?
Do you want grants, access to local and international markets, mentorship and lots more?
If yes, apply for the Agro-Hack challenge right away!
---
Last Updated on
---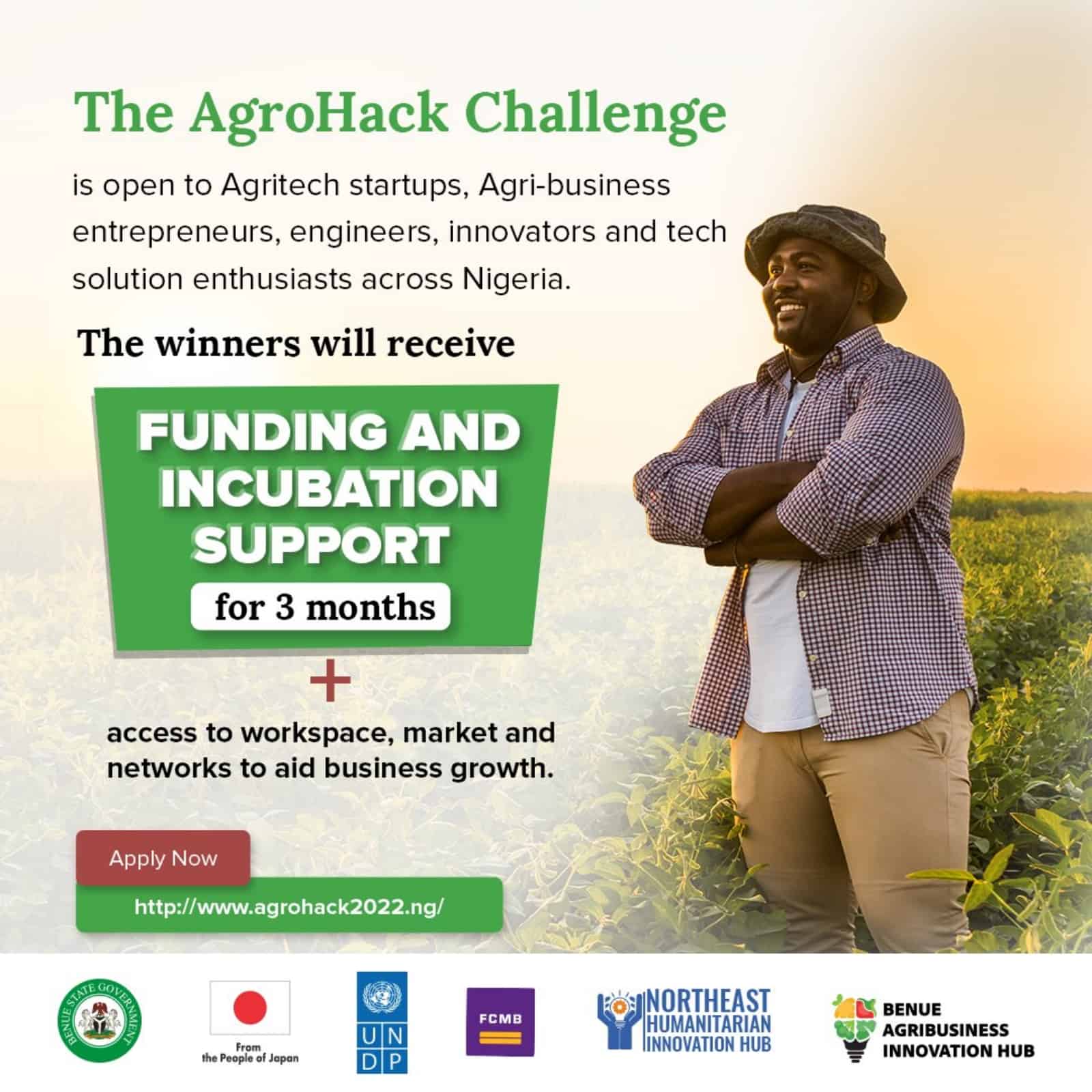 Applications are invited from AgriTech startups, AgriBusiness Entrepreneurs, Engineers, Innovators and Solution enthusiasts across Nigeria to apply for the 2022 Agro-Hack Challenge & Summit.
The Agro-Hack Challenge & Summit 2022 is an AgriBusiness and AgriTech-focused challenge aimed at crowdsourcing innovative solutions to difficulties encountered by the agricultural ecosystem in Benue State and Nigeria as a whole.
These challenges, mainly in the agricultural value chain, cut across the following sub-sectors:
Production (input, fertilizers, irrigation, greenhouses, vertical farming, etc)
Processing
Storage
Agricultural Finance
Agricultural Commerce
Supply chain, etc
Agro-Hack Challenge Eligbility
Open to:
AgTech startups, entrepreneurs, innovators and enthusiasts across Nigeria;
Agriculture-based research institutes, university students, especially those studying Agric-related courses;
Smallholder farmers and agricultural value chain players, conflict-affected communities.
Agro-Hack Challenge Benefits
The AgroHack Challenge is open to Nigerian Agritech startups, Agri-business entrepreneurs, engineers, inventors, and tech solution aficionados. 50 innovators will be chosen for the pre-incubation stage, with the top 25 moving on to the incubation stage. These 25 startups will receive $30,000 in equity-free funding, three months of incubation support, and other interesting incentives.
How to Apply for Agro-Hack Challenge
The AgroHack Challenge is organized in partnership with Benue Agribusiness Innovation Hub, Passion Incubator, Japan Government, NorthEast Humanitarian Innovation Hub, ThriveAgric, Benue Government, and the Center for Food Technology and Research, Makurdi, Benue state.
Deadline: December 14, 2022
TAGGED: Explore Contests and Competitions Worldwide
RECOMMENDED: Check Here for More Scholarships and Opportunities.