AIG Scholarships
Africa Initiative for Governance, AIG Scholarships 2023/2024 | Fully Funded to Study for a Master's in Public Policy at the University of Oxford
Africa Initiative for Governance (AIG) is now accepting applications from eligible Nigerians currently working in the public sector for its 2023/2023 scholarships. The deadline for submission of application for the Africa Initiative for Governance (AIG) Scholarships is September 9, 2022.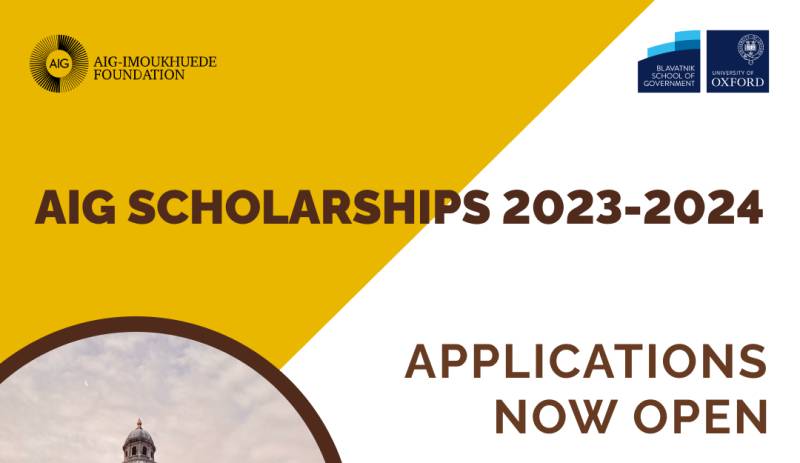 The Aig-Imoukhuede Foundation invites applications for the 7th edition of the AIG Scholarships, which provide an exciting opportunity for talented Nigerians working in the Nigerian public sector to attend the University of Oxford for one year and pursue a Master's in Public Policy degree.
The AIG Scholarships were established in 2017 to provide a once-in-a-lifetime opportunity for talented West Africans interested in a career in public service to pursue a Master of Public Policy at the University of Oxford's Blavatnik School of Government. Since 2017, twenty-seven (27) scholarships totaling more than £50,000 have been awarded to future public sector executives who have showed a commitment to the field.
AIG Scholars spend a year at one of the world's finest universities, learning from exceptional academic faculty and professional practitioners while interacting with other future public sector leaders from around the world. Scholars return to their home countries after finishing their degrees to apply their knowledge to improve policymaking, promote reforms, and contribute to their country's progress.
From 2022, the AIG Scholarships will only be available to applicants who are already employed in the civil service. Applicants must be between the ages of 25 and 50, with good intellectual capacity, demonstrable leadership characteristics, and a desire to contribute to the development of Nigeria's civil service.
Africa Initiative for Governance (AIG) Scholarships Eligibility
To be eligible for this award you must:
Be a Nigerian currently working in the public sector (Ministries, Departments, Agencies & Parastatals) at either Federal or State levels.
Be between 25 and 45 years old.
Have a minimum of seven (7) years work experience.
Have a bachelor's degree with a minimum of second-class upper qualification.
Africa Initiative for Governance (AIG) Scholarships Benefits
Funding will cover Tuition, living expenses and stipend for summer project
How to Apply for Africa Initiative for Governance (AIG) Scholarships
Due to high volumes of applications, only applicants shortlisted for the next stage of the selection process will be contacted, and any inquiries regarding individual application status will not be responded to.
Only applications submitted via the online application portal will be considered.
Candidates who emerge as finalists in the selection process will be required to apply directly to the Blavatnik School of Government, University of Oxford, for admission. Full support will be provided throughout the application process. Finalists offered admission to the Master of Public Policy will be considered for the AIG Scholarship.
RECOMMENDED: Check Here for More Scholarships and Opportunities.
Share This Post: If you think this post can be helpful to somebody else, please share it using the buttons below!
More Posts From ›› Scholarships / Grants / Bursary / Awards - Local & International