Join Andersen's Graduate Program - Kickstart Your Career!
Andersen Graduate Program 2024: A Comprehensive Guide for Aspiring Fresh Graduates.
Andersen's Graduate Program 2024 invites fresh graduates with a minimum of a Second-Class Upper Degree to apply. Applicants must be under 27 and meet other criteria such as NYSC status. The process includes a GMAT-based Aptitude Test, Group Exercises, and Interviews. Apply by 12th August 2023 via the link provided.
---
Updated on by Olusegun Fapohunda
---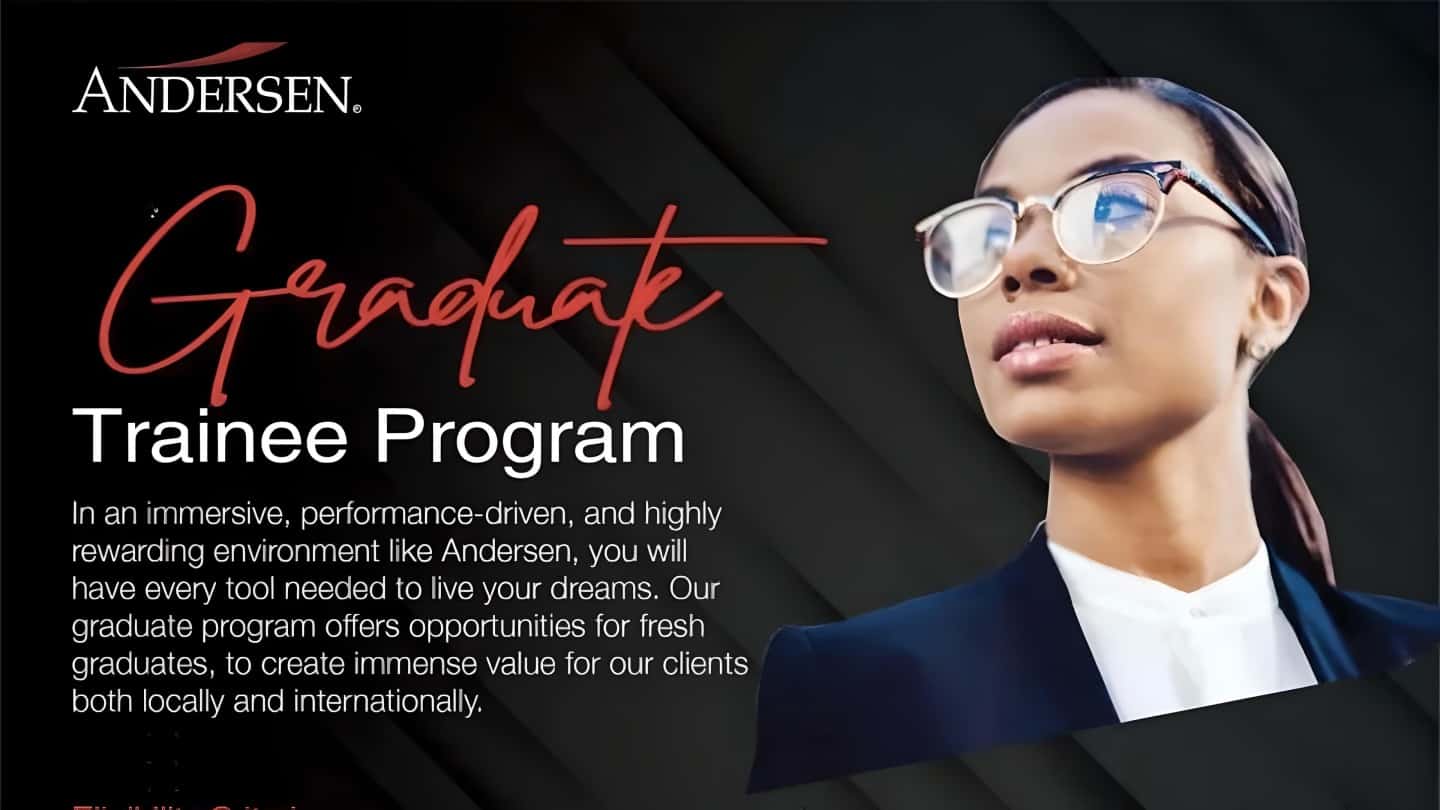 Andersen, a company deeply rooted in its core value of stewardship, has long sought to invest in the brightest minds to maintain its legacy of excellence. With an unwavering dedication to nurturing talent, Andersen's Graduate Program for 2024 is here, offering a unique opportunity for fresh graduates to thrive both personally and professionally. This article serves as a complete guide to the program, detailing everything from the job summary to the application method.
| | |
| --- | --- |
| 🏢 Organization | Andersen |
| 🌞 Program | Andersen Graduate Program 2024 |
| 🎓 Eligibility Criteria | 5 credits including Mathematics and English, Second-Class Upper Degree in any discipline, law graduates must have a second-class lower from Nigerian Law School, Under 27, NYSC Status |
| 📝 Application Closing Date | 12th August, 2023 |
| 🧩 Selection Criteria | GMAT-based Aptitude Test, Essay, Group Exercise, Individual Presentation, Panel Interview |
| 📜 Offer | Successful candidates will be considered for a role with Andersen |
Job Summary: Investing in Talent
Andersen's belief in hiring best-in-class talent aligns with its aim to create immense value for clients both locally and internationally. The graduate program is designed to allow successful candidates to grow, have a significant impact on their communities, and flourish in their careers. The company promises an immersive, performance-driven, and highly rewarding environment where the tools needed to live your dreams are at your fingertips.
Eligibility Criteria: Are You the Perfect Fit?
To apply for this opportunity, you must meet the following requirements:
Academic Qualifications:

A minimum of 5 credits in one sitting (Mathematics and English Language are prerequisites).
Graduate of a reputable university with at least a Second-Class Upper Degree in any discipline.
Graduates from international universities must provide undergraduate transcripts if the class of Degree isn't stated on the certificate.
Law graduates must have at least a second-class lower degree from the Nigerian Law School.

Age Limit: Applicants must be less than 27 years old at the time of application.
NYSC Status: Applicants should meet one of the following conditions:

Be currently enrolled in the NYSC program.
Have completed NYSC.
Show relevant documentation if exempted from the NYSC scheme.
The Offer: What Awaits Successful Applicants?
A successful candidate signifies that you have cleared all Andersen's recruitment processes and are considered for a role within the firm.
Application Process: How to Apply?
The application closing date is 12th August 2023. If you're interested and meet the qualifications, follow the steps:
Click on the Application Link.
Complete the Online Form.
Submit Your Application.
Selection Criteria: How Will You Be Assessed?
A. Aptitude Test and Essay:
Shortlisted candidates will undergo a GMAT-based Aptitude Test and write an essay to test their ability to articulate thoughts clearly.
B. Assessment Centres:
This next stage of recruitment involves:
Group Exercise
Individual Presentation
Panel Interview
Each process aims to assess specific attributes, and successful candidates will progress to the final interview phase.
C. Final Interviews:
Once successful at the assessment centre, candidates will meet with a Partner for a one-on-one interview.
A Note on Andersen's Ethos:
Andersen is an affirmative action-equal opportunity employer, and personal data collected will be used exclusively for recruitment purposes.
Conclusion: Embrace Your Future at Andersen
The Andersen Graduate Program 2024 is a golden chance for talented individuals seeking to grow in a conducive environment. With an emphasis on personal and professional development, Andersen offers the platform to turn dreams into reality. Don't miss this chance; apply today and take the first step towards a fulfilling career.