Al-Istiqama University Sumaila (AUSU) Post UTME Form
Al-Istiqama University Sumaila (AUSU) Post UTME Form for 2022/2023 Academic Session
Al-Istiqama University, Sumaila (AUSU) has commenced the sale of application forms for admission into its first degree programmes for the 2022/2023 academic session. See the available courses and how to apply for the AUSU post UTME form below.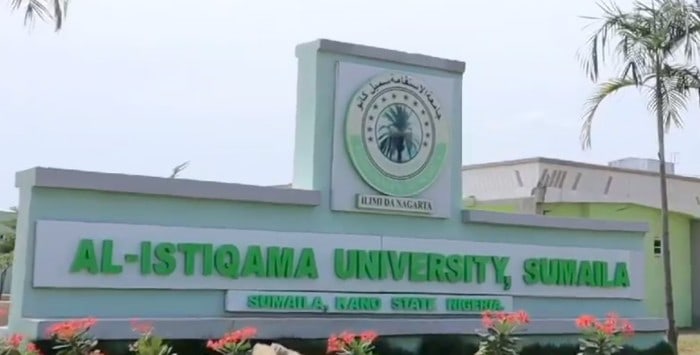 Al-Istiqama University, Sumaila, was granted a license to operate as a bonafide and full-fledged private University by the National Universities Commission (NUC) on the 8th of April, 2021 The University's Mission is to encourage global study, experiential learning and research, interdisciplinary scholarship, creativity, and entrepreneurial endeavours with ultimate fear of God.
In view of the above, the University invites applications from interested and suitably qualified applicants for its admission for the 2022/2023 academic session.
Applicants must score a minimum of cut-off points at UTME as mandated by JAMB and should also meet other requirements stipulated by it.
Al-Istiqama University Courses
FACULTY OF SCIENCE AND COMPUTING
B. Sc Computer Science
B. Sc Software Engineering
B. Sc Physics with Electronics
B. Sc Mathematics
B.Sc Chemistry
B.Sc Biology.
FACULTY OF ARTS, SOCIAL SCIENCES AND MANAGEMENT STUDIES
B. A. Islamic Studies
B.Sc Economics
B.Sc Accounting
B.Sc Taxation
B.Sc Entrepreneurship Studies
B. Sc Political Science
FACULTY OF BASIC HEALTH SCIENCES
B.N.Sc. Nursing
BmLS. Medical Laboratory Science
B.SC. Public Health Science
See also: Al-Istiqama University, Sumaila (AUSU) School Fees.
Duration of Al-Istiqama University Courses
Programmes in the Faculties of Arts, Social and Management Sciences, Computer and Computing are of eight semesters.
The two programmes in the Faculty of Basic Health Sciences, Nursing and Medical Laboratory Science are of a duration of 10 semesters each, while B.Sc. Public Health is eight semesters
Entry Requirements: Applicants must possess Five Credits in SSCE/GCE or its equivalent in not more than two sittings in addition to meeting the aforementioned JAMB requirements
The four programmes (Accounting, Taxation Economics, Entrepreneurship Studies) domiciled in the Faculty of Arts, Social and Management Science require Five Olevel Credits each in Mathematics, English, Economics, Accounting/Financial Accounting and any other social science subject;
B.A. Islamic Studies requires Five O'level Credits in English IRS/IRK, and any other three arts/social science subjects, O level Credit in Arabic is an added advantage.
The programmes in the Faculty of Science and Computing and Faculty of Basic Health Science require Five O'level Credits each in Biology, Chemistry, Physics, Mathematics and English. O'level credit in Geography will be accepted in place of Biology for B.Sc. Computer and B.Sc. Software Engineering
How to Apply for Al-Istiqama University Post UTME Form
Applicants should: 
visit JAMB CAPS for a change of institution and choose Al-Istiqama University, Sumaila as their first choice and
visit www.ausu.edu.ng to fill the application form and pay a non-refundable fee of Ten Thousand Naira (N10,000) only and submit.
Al-Istiqama University, Sumaila will not entertain any payment outside its stipulated website; applicants should please pay attention.
The university looks forward to receiving your application; please visit www.ausu.edu.ng for guidance. For further enquiries please contact info@ausu.edu.ng
RECOMMENDED: List of Schools Whose Post UTME Forms are Out.