The Fear of Poverty Motivated, Says Bell's Best Graduand
---
---
Best graduating students of the Bells University of Technology shares of his outstanding accomplishment.
'The fear of poverty motivated me to be the best in everything I do' Read more below.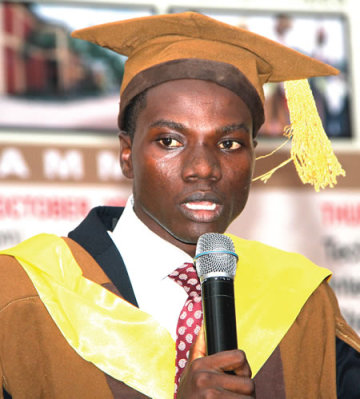 For 27-year-old Afolayan Oluwaseun, the best graduating student at the Bells University of Technology, Ota, obtaining a first class, with the Cumulative Point Grade Average of 4.9 out of 5, is not a piece of cake.
It is an accomplishment, which 'consumed' a lot of commitment and dedication. No wonder, the young man explained that he was able to achieve the feat following a mindset he formed in his secondary days.
According to him, he developed quite early in life a mindset that not only hates poverty but also sees education as a weapon to fight disease and poverty.
He said, "The fear of poverty motivated me to be the best in everything I do. I hate poverty with a passion. So wherever I find myself, I strive for excellence. I developed this spirit while I was in the secondary school."
Afolayan, who said he never gave up in anything of life, noted that he sat for the Unified Tertiary Matriculation Examination twice without meeting the cut off points.
"I scored 192 and 233 in 2007 and 2008 UTME respectively and these scores could not guarantee me a place to study Medicine at the Ladoke Akintola University, Ogbomoso, Osun State," the graduate who attended the Jefab International School, Suleja, Niger State, noted.
But even with this initial failure, the young man never gave up in his pursuit for studies. He later enrolled at the Allover Central Polytechnic, Ota, Ogun State, where he obtained a distinction in Electrical Electronics in his Ordinary National Diploma.
Afolayan, who explained that he lost his father when he was seven years old, added that the OND enabled him to secure direct entry to the university, where he studied Physics/Electronics.
He added, "I won't say I spent all the time in the library but I had a scheduled plan for every activity that I engaged in. I was the music director for two years, and I am in love with the keyboard. It was a matter of knowing what to do at a particular time. Like one of my lecturers always says, any dummy can achieve it, if only he or she can plan his or time well,' he said.
Afolayan, a native of Iresi, Boluwaduro Local Government area of Osun State, said the same deft preparation offered him a scholarship opportunity in the university.
"That year, the school paid 60 per cent of my school fees and I only paid 40 per cent," he added excitedly.
Did he ever think of being the best graduating student? Afolayan, the last child of his mother's six children, explained that he made a conscious effort to achieve, especially having witnessed many convocation ceremonies.
According to him, the 2013 convocation was the icing on the cake that spurred him into a greater action.
"When I saw Maryam last year, I said to myself, 'I will be the next person to be celebrated as the best graduating student.' And I began to work at it, I thank God today, it happened," he added.
Afolayan, who paid a glowing tribute to one Mr. and Mrs Oresanya, said the story of his life would not be complete without making a reference to the couple.
Mrs. Oresanya is his stepsister, as his late father, James Afolayan, was a polygamist.
He further explained, "When I lost my father, the lot fell on my mother, Felicia Afolayan, to take care of my upkeep. She however could not do much as she was a petty trader.
"But later I was taken to Zaria by a family member. It was from there my stepsister brought me to Suleja. From Suleja, she brought me down to Ota."
Afolayan, who stated that the Oresanyas showered much love on him, noted that the treatment their children got was the same he received from them.
He said, "They sent me to a private school where they sent their children. That was why I referred to them as my 'parents' because they did more than being my guardians."
But why did he not eventually study Medicine, which he claimed was his first love?
He explained, "Yes, I felt bad during the period I was seeking admission. I later observed that I was enjoying the engineering field when I started studying electrical/electronics in the polytechnic. (Punch)