Babcock University Students' Association (BUSA) Scholarship Scheme 2020/2021
Applications are invited from all eligible students of the Babcock University for the 2020/2021 Babcock University Students' Association (BUSA) Scholarship Scheme. The deadline for the submission of applications is 12th February 2021.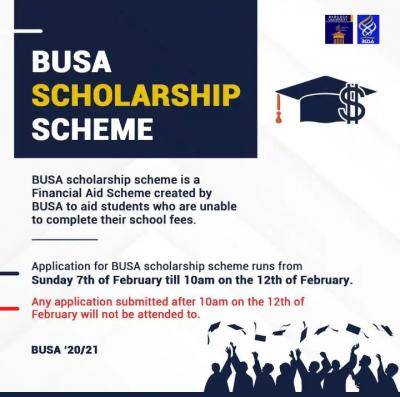 BUSA scholarship scheme is a  Financial Aid Scheme created by BUSA to aid students who are unable to complete their school fees. Application for BUSA scholarship scheme runs from Sunday 7th of February till 10 am on the 12th of February.
Any application submitted after 10 am on the 12th of February will not be attended to.
REQUIREMENTS:
1. CGPA for the application must be from 3.5 and above.
2. Passport photograph
3. E transact
4. Letter of application for the scholarship. (Please write down how much will be needed to complete your fees and the letter must be concise and straight forward)
5. Photocopy of ID card, front and back.
6. Unofficial transcript
HOW TO APPLY:
The application for the BUSA scholarship scheme should be submitted physically to either NDUDI PRINCESS VENNIA welfare director main campus) or UDEOGU EMMANUEL welfare director Iperu campus) or the application can be sent to the BUSA mail (busadocumentation@gmail.com) for the batch B students too. If neither of the welfare directors can be found, kindly scan the documents and send it to the email address above
RECOMMENDED: Check Here for More Scholarships and Opportunities.
If you think this post can be helpful to somebody else, please share it on Whatsapp, Twitter, Facebook. There are buttons below for this (easy to use too)!