LASU Students Urge Fashola to Direct Closure of Payment Portal
---
Updated on by Olusegun Fapohunda
---
LASU Students Urge Fashola to Direct Closure of Payment Portal: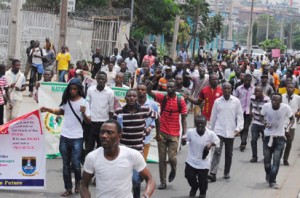 The Lagos State University Students Union (LASUSU) on Tuesday urged Gov. Babatunde Fashola to direct the closure of the institution's payment and registration portal.
Mr Nurudeen Yusuf, the union's President, told the News Agency of Nigeria (NAN) in Lagos that the closure of the portal was necessary until the government reduced the tuition fees.
"We hereby appeal that the payment and registration portal be closed till the government makes pronouncement on LASU fees as proposed by the students union.
"This is to ward off unforeseen eventualities that may arise in the nearest future," he said.
Yusuf said the deadline by the management for students to pay their fees and register courses for the 2013/2014 academic session before May 30 has lapsed.
He said students were bent on their "no reduction, no resumption" policy and that discussions on how much the students would pay were still ongoing.
The News Agency of Nigeria (NAN) reports that Fashola, at a meeting with LASUSU on March 31, directed the students to come up with a proposal on how much they could afford.
The students decided that the fee should be reduced to N46, 500 for returning students and N65, 500 for fresh students.
The proposal by the students was submitted on April 24, while several reminders were sent to the governor on the issue.
The Lagos State Commissioner for Education, Mrs Olayinka Oladunjoye, at a media briefing on May 8, said the government would soon make a pronouncement on fees.
Yusuf said the students were not satisfied with the government's statement since the word 'soon does not indicate a definite time".
"If a 50-year- old can die and we say gone too soon, hence, anytime can be soon," he said.
Yusuf said that sequel to several peaceful protests by the students, the State Exco Ad-hoc Committee met with the union on the review of LASU tuition on May 27.
He said the Committee, chaired by Mr Kayode Opeifa, the Commissioner for Transport, had decided that quality education could not be achieved based on the students' proposal.
Opeifa said the tuition of N46, 500 would make LASU a university for the poor and all comers.
"The committee said the state government is subsidising education in LASU by 90 per cent and government is only responsible for free education up to secondary level," he said. (NAN)