COEASU Opposes Conversion of Colleges of Edu. to Varsities
---
---
Colleges of Education Academic Staff Union, COEASU criticized FG decision to convert colleges of education to universities.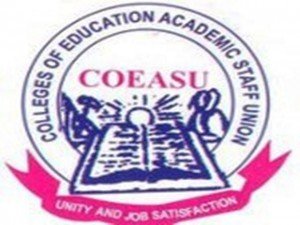 Following the announcement of the Federal Executive Council (FEC) approval of the conversion of four old Colleges of Education to new Federal Universities of Education, the Colleges of Education Academic Staff Union (COEASU) has faulted the decision of the Federal Government to the Colleges of Education to universities.
Mr Nuhu Ogirima, the General Secretary of the union, stated in Abuja on Thursday while briefing newsmen.
According to him, such decision will not ensure professionalism in the teaching profession.
· Cue in audio
"The decision of the Federal Government to convert four Federal Colleges of Education to universities, that is Federal College of Education, Kano, Zaria, Alvan Ikoku College of Education Owerri, and the Adeyemi College of Education, Ondo, is something that has been rot with some sort of controversy.
"But our position as a union has always been that the colleges of education that have been found worthy of awarding degrees on their own, should be given the autonomy to so in addition to running of NCE programmes, it is called dual mode.
"Our issue remains the fact that when you allow a dual mode in the colleges of education, you are allowing for serious professionalism.
"Because, our concept has to do with a situation where the NCE graduate will be allowed to transit to degree by direct entry not through JAMB.
"But NCE graduates are being allowed to move to degree in those colleges, even in advanced countries if you choose to take a degree from a college, so be it.
"But be that as it may, the conversion is welcome for those who may want to push for their teaching profession through those institutions.''
· Cue out audio
Ogirima said that only two per cent of students seeking admission into degree awarding institutions subscribed to education courses.
He said that there was lack of interest in teaching and attributed it to the lack of attention to the teaching profession by government at all levels.(NAN)