Delta State University is now selling forms for admission into its HND (Higher National Diploma) conversion programme for the 2018/2019 academic session. DELSU HND to B.Sc conversion form is obtainable online.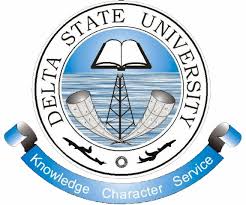 Applications are invited from suitably qualified candidates for admission into the Delta State University (DELSU) HND conversion programme for the 2018/2019 academic session.
DELSU HND conversion programme is mainly for holders of Higher National Diploma (HND) Certificates who desire to earn University Degree.
The Programme is aimed at bridging the gap between HND and B.Sc. Degree, as well as provide a platform for candidates to improve upon their class of degrees or move to other related disciplines.
How to Apply for DELSU HND Conversion Programme
i). Visit www.delsuonline.com
ii). Click online Application
iii). Click Start
iv). Click on HND
v). Click start
vi). Submit the form and generate PIN
vii). Print out the PIN generated.
viii). Visit any of the specified banks for payment.
The application form must be correctly filled with all information required before submitting online and thereafter print out in the delsu website.
Upload a recent coloured passport size photograph (scanned, not more than 3 months old passport) with red background. Webcam photograph is not acceptable.
All candidates are required to use valid e-mail addresses and telephone numbers.
NOTE
(i) Fill your Bio-Data correctly as no complaint about wrong bio-data will be entertained after submission.
(ii) Candidates who upload wrong bio-data will be disqualified and forfeit their application fee.
(iii) Only coloured print out will be accepted.
(iv) Print at least 4 copies of the Delta State University online registration form with complete passport size photograph printed in colour.
(v) Candidates are to follow the application instruction very carefully and ensure they select the appropriate course relevant to their course of study.
Application Start Date: 19th June, 2018
Closing Date: 27th July, 2018