How are you Celebrating the Golden Eaglets 4th Victory?
How are you Celebrating the Golden Eaglets 4th Victory?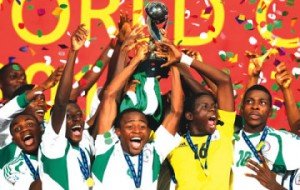 Nigeria  on Friday became the most successful team in FIFA U-17 World Cup history with a 3-0 win over  Mexico at the Mohammad Bin Zayed Stadium in Abu Dhabi, United Arab Emirates.
Nigeria  beat defending champions  Mexico  to win the  FIFA Under-17 World Cup title for the fourth time and made history by being  the first country to win the junior world trophy four times.
By far the most exciting team of the tournament, the Eaglets were always the bookies favourites to emerge champions after a scintillating  display that had seen them score 23 goals in six games.
The Golden Eaglets arrived in UAE boasting three title triumphs in the cadet tournament like South American powerhouse Brazil.
Nigeria were champions in 1985, 1993 and 2007, and runners-up in 1987, 2001 and 2009.  But   an own goal from Erick Aguirre after nine minutes  followed by  a tap in from Kelechi Iheanacho  and   Captain Musa Mohamed's free kick helped Nigeria leapfrog  Brazil, who won the competition in 1997, 1999 and 2003.
Describe Golden Eaglets In One Word via the comment section below
If you think this post can be helpful to somebody else, please share it on Whatsapp, Twitter, Facebook. There are buttons below for this (easy to use too)!