EBSU Carrying Capacity, Admission Selection & Quota - 2016/17
---
Updated on by Olusegun Fapohunda
---
Ebonyi State University, EBSU carrying capacity, basis of admitting candidates on merit and admission quota distribution to programmes for the 2016/2017 academic session.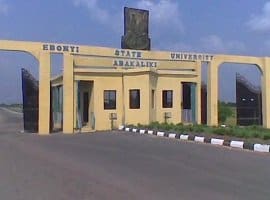 EBSU Procedure for Selection of Candidates for Merit Admission
The first choice admissions are to be guided by JAMB approved admission criteria as follows:
Merit: Here about 40 (forty) percent of each programme shall be selected as general merit (MR).
Locality/Catchment (RL): 40% of the quota of each programme shall be selected and spread among 13 Federally recognized Local Government Areas of Ebonyi
ELDS: Educationally less developed states shall be discretionally applied for some LGAS in Ebonyi State still in keeping with JAMB approved criteria. For purposes of information only, please be reminded that states recognized as educationally less developed include: Adamawa, Bauchi, Bayelsa, Benue, Borno, Cross River, Ebonyi, Gombe, Jigawa, Kaduna, Kano, Kastina, Kebbi, Kogi, Kwara, Nasarawa, Niger, Plateau, Rivers, Sokoto, Taraba, Yobe and Zamfara and this only guides Federal Universities as it were .
JAMB approved UTME subject combinations for different courses in the brochure shall continue to also guide all admission
Physically challenged candidates with acceptable minimum UTME (JAMB) scores are to be accorded preferential admissions privileges even without evidence of participation in EBSU screening exercise.
See also: EBSU Minimum Cut-Off Marks for 2016/2017 Admission .
EBSU Admission Quota Criteria by Percentage
Subject to the prevailing situation, admission of candidates based on the 5,117 NUC approved quota for EBSU in 2016/2017 admission session shall be guided by the following criteria.
Merit/Locality 80% (3684 slots) subdivided into:

General Merit 40% (1842 slots)
Catchment//Locality 40% (1842 slots)

Direct Entry candidates 10%(512 slots)
Educationally less developed Local Government (ELDLG) is 20% (921 slots). Ebonyi State is among the Educationally less developed states in Therefore, only the three LAGs at the three zonal headquarters are for now regarded as educationally developed. Thus: Abakaliki, Ezza South and Afikpo North stand as Educationally developed.
The other ten Local Government Areas regarded as ELDLG for 2016/2017 admissions include: Ebonyi, Ivo, Ezza North, Ishielu, Afikpo South, Ohaukwu, Izzi, Ikwo, Ohaozara and Onicha.
N/B: Please, note that in keeping with the Joint Admissions and Matriculation Board (JAMB) recent policy on admissions, which of course insists that conditions as listed in 5 above must be strictly adhered to, the University is constrained not to adopt her usual formular of allocating some admission percentages to stakeholders/government interest. Your usual understanding in line with the foregoing is highly solicited as we try to keep to extant policies as well as keep fate with our corporate social responsibilities, please.
EBSU Admission Quota Distribution to Programmes
The 5,117 quota allotted to EBSU for 2016/2017 session shall be distributed to Faculties and Departments as shown on the table below:
*** Click the images below to have a better view***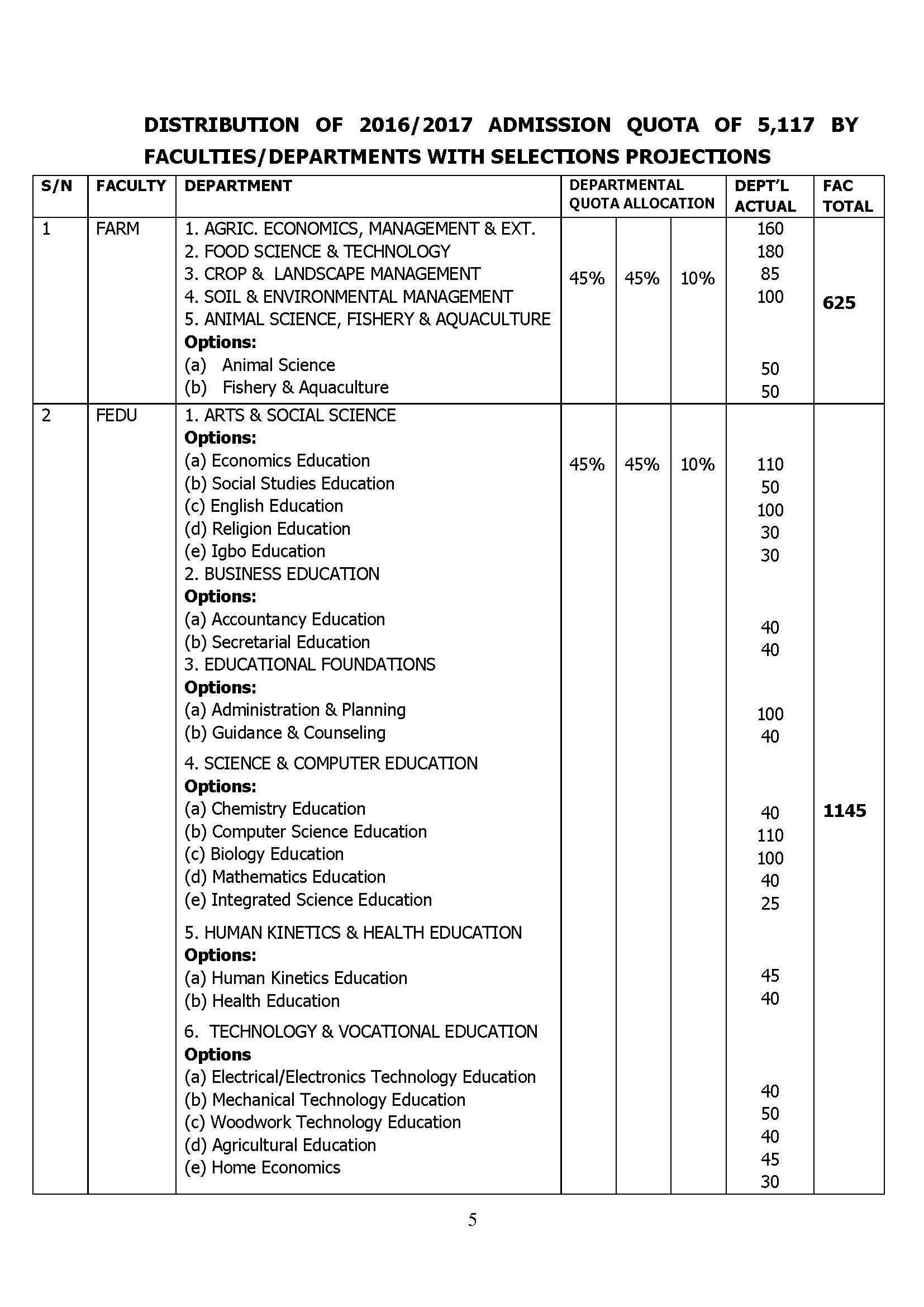 EBSU Admission Through Pre-Degree.

Admission of candidates through the Pre-Degree school (PDS) shall continue to be given adequate preference in such a manner that there shall be merit and supplementary admission consideration just like UTME candidates.
EBSU Admission Ratio
(a) Council approved admission ratio of 80;20 between Ebonyi catchment LGAs versus candidates from other Local Government Areas/states respectively shall continue to apply as much as practicable.
(b) The admission ratio of 60:40 in favour of sciences and Arts based courses shall also continue to apply.
MSG Team.