EBSU Online/Manual Result Submission Processing
---
---
Ebonyi State University, EBSU online result submission procedures.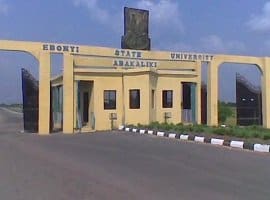 The management of the Ebonyi State University has released the procedures for submission of results online by coordinating course lecturers.
INTRODUCTION
E-mail/SMS alert will be sent to coordinating course lecturers to inform them of the login details they will use for submission of results.
Samples of E-mail/SMS alert to be received include the following:
Login to our website www.ebsu-edu.net User name: talk2imma@gmail.com Password: abcdefgh
STEPS FOR SUBMISSION/PROCESSING OF RESULTS.
Open our website www.ebsu-edu.net
Click on <admin login> to fill in your username and password
On successful login, change your default password
You can process results in the following order:.
Download score sheet
Enter the students in- course and examination scores
Upload score sheet
Download official grade report sheet
Print official grade report sheet
Submit official grade report sheet to department for approval
Departmental board submits approved results to faculty if no amendments/corrections are required.
If there is need for amendments/corrections, the lecturer re-downloads the score sheet, makes modification as required online, re-print official grade report sheet (as in (d )to (e) above) and re-submit to department for approval.
The Department should forward all results with the minutes of board meeting containing changes made in the original result submitted by the examiner to faculty.
Faculty board receives results from departments and if amendments/corrections are required , they are made on the official grade report sheet and countersigned by the Dean of the Faculty and HOD concerned.
Faculty submits results to Examination Registry. The results should be submitted to the Examination Registry with minutes of the Faculty Board meeting indicating the corrections/ amendments made on the original result submitted by the Department, if any.
TO SUBMIT/DISTRIBUTE RESULTS
The faculty submits six (6) copies of results as follows
3 copies to Exams Registry( for Exams, Records and Database)
1 copy to be retained by the faculty
1 copy to department teaching course
1 copy to department offering course
NB: Examiners are expected to fill in <incourse> and <exam> scores in the downloaded score sheet. Exam score MUST be filled with a score or with an <ABS> code for ABSENTEE. System will not allow a blank result score.