Federal Polytechnic Ede (EdePoly) Notice to All Students
---
Last updated on
---
Federal Polytechnic Ede (EdePoly) notice to all students following the demonstration of Monday 11th October 2021.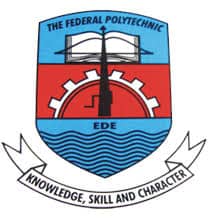 Consequent upon the intervention of well-meaning and eminent Stakeholders, one of which is His Royal Majesty, the Timi of Ede, Oba Munirudeen Adesola Lawal and the fruitful discussion between the Rector and the Students' Union Leadership, the Rector gave the following directives as a way of resolving the impasse:
1. Late registration and the penalty fee of N5,000.00 is henceforth cancelled for this Session – 2020/2021
Academic Calendar as approved by the Academic Board will be followed strictly. Any Student who fails to register within the time stipulated by the academic calendar forfeits his/her registration for the session.
Registration means payment of all school fees and all other fees.
The N3,500.00 transportation fee is for development and maintenance of some facilities
The Contractor handling the road to South Campus has been implored to quicken the pace of the work.
Students' Handbook will be printed and distributed to all Students within the next few weeks.
Two drop-points has been created for Okada carrying Staff and Students. Okada carrying Staff and Students' from the Rector's market has the space by the ATM, Rotract Bus-stop, as their terminal point to drop passengers.
While Okada carrying Staff and Students through the Ogberin gate has beside the Entrepreneurship Building as their terminal point to drop passengers.
Management will make arrangements to provide identifiable jackets and tags for all registered Commercial and Private Okada Riders that can enter the Polytechnic Campuses.
As part of resolving the transportation problems to the South Campus, all Lectures on the
The Director of South Campus shall henceforth commence from 9.00 a.m. Works has been directed to renovate the SUL Building as originally approved by the Rector.
All Management policy statements concerning the Students' shall as usual be routed to them through the Dean Student Affairs
Management working with Community Leaders in Ede will work to improve on the Security situation in Ede Community.
Furthermore, the Rector directed immediate resumption of academic activities on the campuses of the Polytechnic. The foregoing are for the information and further necessary action of all concerned.
Ace Your Exams: Join Our Online Classes For JAMB, WAEC, NECO & NABTEB Candidates