Edugrant is calling for applications from first-year students/candidates that are about to gain admission for its 2021 Scholarship for Excellence. The deadline for the submission of applications for the EduGrant Scholarship for Excellence is 24th May 2021.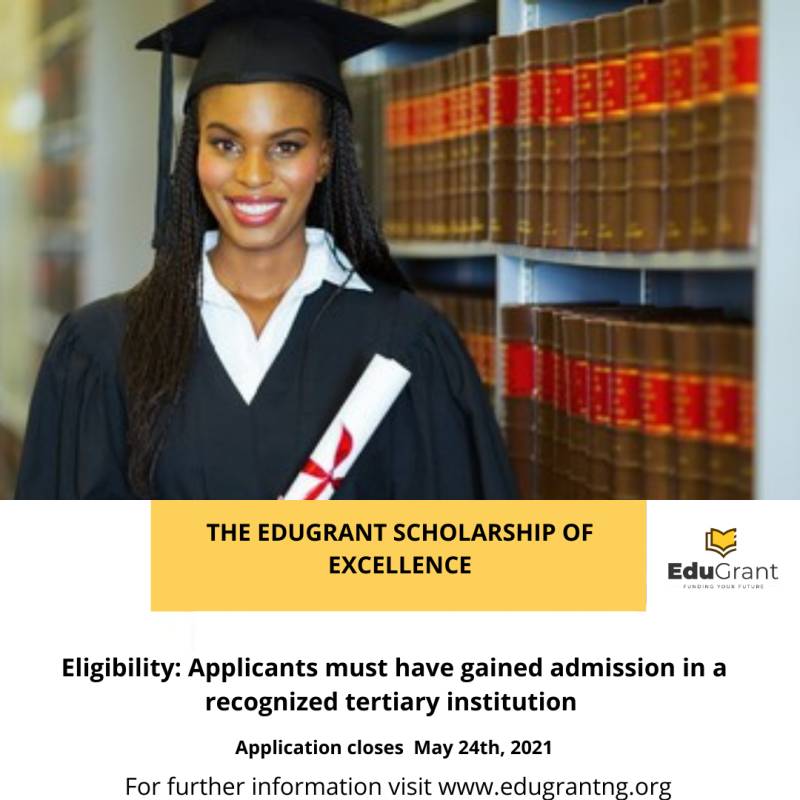 We are pleased to announce The EduGrant Scholarship for Excellence, an initiative aimed at motivating students in the pursuit of their
academic goals. Please see the eligibility and submission requirements below.
Scholarship type: Full scholarship
Who can Apply for EduGrant Scholarship for Excellence
Applicants must be in their first year or about to gain admission
Entrants must have gained admission in a recognized tertiary institution in Nigeria.
Applicants must be able to provide original copies of necessary certificates/documents
Entrants must have excellent WASSCE grades
How to Apply for EduGrant Scholarship for Excellence
Create a profile on Edugrant's website – www.edugrantng.org.
For enquiries, contact us on info@edugrantng.org.
Application Deadline: 24th May, 2021.
RECOMMENDED: Check Here for More Scholarships and Opportunities.