Ekiti Educational Sector has Improved, Says Fayemi
---
Last updated on by Olusegun Fapohunda
---
Ekiti Educational Sector has Improved, Says Fayemi: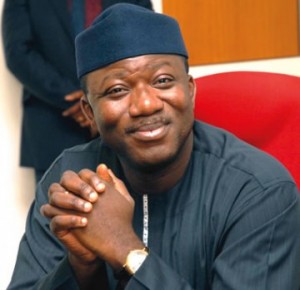 Ekiti State governor, Dr Kayode Fayemi yesterday said that the state's educational sector has witnessed a tremendous transformation in the last three years of his administration.
He said the improvement in the level of students' performances in external examinations and the welfare of the teachers are unprecedented since he came on board as the helmsman of the state.
Fayemi stated these on Tuesday in Okeoro Ekiti in Ijero local government while reacting to an allegation by the Peoples Democratic Party governorship candidate, Mr Ayodele Fayose that the rating of the state in public examinations is at its lowest ebb since October 16, 2010 when Fayemi assumed office.
The governor who challenged Fayose to a debate on the level of development of education in the state said, "Go to West African Examinations Council and check the trajectory. Go and see the records we have achieved in the last three years. Ekiti has produced good results consistently. I don't deal with opinions; I deal with facts because facts are sacred; opinions are free; anybody can say what they like".
Fayose had on Monday in Ikere Ekiti said the state was ranked 8th in WAEC before he left in 2006, expressing regret that the standard had witnessed a downward trend to as low as 35th among the 36 states of the federation under Fayemi's regime.
He maintained that the value he attached to education earnedhim his doctorate degree.
the governor added , "I challenged my good brother, Mr Ayo Fayose to a debate on the academic records when he was the Governor and what obtains now that I am Governor. You can check out the entire parameters , teachers when he was governor were earning N7,500 minimum wage.
"Then, There was no rural teachers' Allowance. No core subjects allowance. No capacity building programme. There was nothing teachers could write home about. Though, Fayose might be distributing N500 and Ankara as tangible and concrete tools in an enduring manner.
"You can go beyond that and go to the tertiary institutions then. It was Fayose that cancelled the College of Medicine in Ekiti State University , go there now and compare the quality of education in the State University.
"Aside this, we have moved from the position of 217 on Webometric ranking to 17 in the entire country.
The governor who also visited Epe and Ara Ekiti in the local government in continuation of his councils campaign promised to expedite action on the construction of Ara-Ijero-Araromi road and Okeoro—Ilukun-Ipoti road to bring development to the communities. (Leadership)
Ace Your Exams: Join Our Online Classes For JAMB, WAEC, NECO & NABTEB Candidates