Ekiti State University (EKSU) notice to candidates seeking admission into its various undergraduate programmes for the 2020/2021 academic session on the need to change their courses.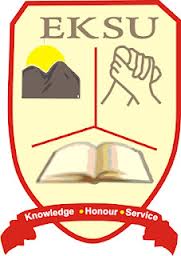 The management of the Ekiti State University (EKSU) has released the list of undersubscribed courses. All the candidates that are yet to be offered admission are advised to change their existing courses to any of the undersubscribed courses listed below.
SEE ALSO: EKSU Admission List.
EKSU Change of Course
This is to inform all candidates seeking admission to Ekiti State University to proceed to the JAMB website to do the following:
To effect a change of their course to either of the underlisted programmes where vacancies exist in their respective Faculties
Re-upload their ordinary level result on the school website.
Note to Mobile users: Scroll to the side to view all the contents in the table below:
SN

FACULTIES

PROGRAMMES

1
AGRICULTURAL SCIENCE
Animal Production and Health Services
Crop, Soil and Environmental Science
Forestry, Wildlife and Fisheries
2
ARTS
French
Yoruba
Christian Religious Knowledge / Studies
Arabic & Islamic Studies
Linguistic
Religious Studies
3
EDUCATION
French Education
Yoruba Education
Education Christian Religious Studies
Education Arabic Studies
Education History
Educational Management
Guidance and Counselling
Human Kinetics
Physical Health Education
Accounting Education
Biology Education
Mathematics Education
Chemistry Education
Basic Science Education / Integrated Science
Computer Education
Physics Education
Social Education
Economics Education
Political Science Education
Geography Education
Agricultural Education
Library and Information Science
Mechanical and Auto Mechanical Technology
Building and Woodwork Technology
Electrical / Electronic Technology
Business Education
Technical Education
Educational Technology
Adult Education
4
MANAGEMENT SCIENCE
Actuarial Science
Cooperative and Rural Development
Entrepreneurship
Insurance
Marketing
Industrial Relations and Personnel Management
5
SCIENCE
Chemistry
Physics
Geo-physics
Mathematics
Plant Sciences and Forestry
Statistics
Zoology
6
SOCIAL SCIENCE
Geography and Planning Science
Tourism Studies
Psychology
Environmental Management
Hospitality and Tourism
7
Medicine
Physiology
8
Engineering
Civil Engineering
Electrical Engineering
Computer Engineering
Mechanical Engineering
9
Education
Childhood Education
Nursery and Primary Education
10
Science
Industrial Chemistry
Microbiology