EKSU Set Records Straight on School Fees
---
---
Ekiti State University (EKSU) set records straight on school fees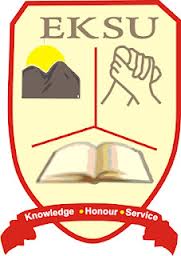 The Management of the Ekiti State University has followed with displeasure the ongoing campaign both in the print and electronic media staged by politicians who present an untrue picture of the tuition fees paid by students of the University as part of electioneering efforts to get people's votes.
In a statement issued by the Deputy Registrar, Directorate of Information and Corporate Affairs, Ajibade Olubunmi, the management debunked the claim by some politicians that the Ekiti State University tuition fees is outrageous. The statement stressed that there was no student paying One hundred and fifty thousand naira (N150,000.00) in the university as being claimed by some politicians.
The EKSU management wishes to restate that the incumbent governor, Dr. Kayode Fayemi has announced a flat rate of fifty thousand naira as tuition fees for all categories of students which has made the university one of the most affordable public institution in the country and that tuition fees of fifty thousand remains.
The statement added further that while other universities across the country including private and public charge exorbitant tuition fees for courses like medicine, law, engineering, sciences in the range of three hundred and fifty thousand naira and one million naira, Ekiti State University students still pays a meager fifty thousand naira as tuition fee.
The management explained that students are expected to pay for other sundry fees like medical, library, sports, identity cards, field trips some of which cost as low as one thousand, five hundred naira and two thousand naira only.
The statement however, requested that gubernatorial candidates in the forthcoming June 21 election in Ekiti State to verify their claims of tuition fees in Ekiti State University to avoid misleading the public.
The Vice-Chancellor, Prof. Patrick Oladipo Aina has always said the university would not increase fees in the future adding that parents must be grateful to Governor Kayode Fayemi who insisted that higher education must be made affordable to indigenes of Ekiti State.
Prof. Aina explained that some final year students pay as little as forty thousand naira as school fees while the university has also started the work-study programme to enable indigent students to sponsor their education with support of Governor Fayemi who donated one million naira to the project.
The Vice-Chancellor said the university is now enjoying global visibility while many of academic and non teaching staff are currently undergoing courses in foreign universities.

Ajibade Olubunmi
Deputy Registrar,
Information & Public Relations