EKSU Students Beat Other Varsities at Agric Debate
---
---
Ekiti State University students beat other universities at the Agricultural Sciences debate.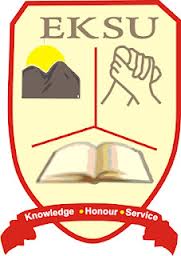 Ekiti State University has reaffirmed its top level performance and quality of teaching and learning following the victory of the students of her Faculty of Agricultural Sciences in an inter-university debate.
The students had earlier defeated all comers at the National Agriculture Students debate in April 2014 at UNILAG and also took the first position at the Second Edition of Prof. Peter Adebola Okuneye's universities Debate Competition held on July 9th at the Federal University of Agriculture, Abeokuta.
Universities which participated at the competition were University of Nigeria, Nsukka, Ladoke Akintola University, University of Ilorin, Federal University of Agriculture, Abeokuta, University of Ibadan and Ekiti State University.
Congratulating the victorious EKSU team, the Vice Chancellor, Prof. Oladipo Aina said the achievement has re-established the success of the vision of the University to rank among the best globally and produce quality graduates who will be sought after the International Job Market.
Prof. Aina commended the Dean, Faculty of Agricultural Sciences, Prof Abayomi Fashina and other academic staff for their painstaking efforts to train the undergraduates.
The EKSU team dusted other Universities in the debate entitled: Sustainable Agricultural Development; A Call for Small Scale Farming.
The leader of the team, Adisa Babatunde thanked the Vice Chancellor for supporting them, adding that their successful participation was a result of hard work and quality training received from their lecturers.