FG, UBEC Disburse 50% of Uniforms for Almajiri Schools
---
Last Updated on
---
The Federal Government, in collaboration with the Universal Basic Education Commission (UBEC), has disbursed 50 per cent of the cost required for the provision of school uniforms for children in Almajiri schools.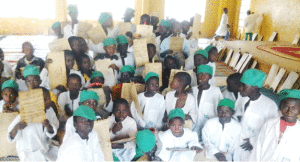 This is contained in a statement signed by Mr David Apeh, Public Relations Officer of UBEC, and made available to the News Agency of Nigeria (NAN) in Abuja on Tuesday.
The statement said the Federal Government initiative was aimed at re-dressing the out-of-school children syndrome at the grassroots.
It said the initiative was also to ensure that children at the early childhood stage had access to education which was one of the statutory functions of the commission.
It said that 125 Almajiri model schools were being constructed by the Federal Government under the National Almajiri Education Programme (NAEP).
According to the statement, 103 of these schools have been completed and handed over to the SUBEBs while 22 were at various stages of completion.
The measure became necessary because of the importance of taking the campaign to the grassroots where challenges of girl-child education, boy-child drop out and Almajiri education were identified.
It said that the UBEC had would set aside some funds from the Teachers Professional Development Fund (TPDF) on an annual basis for the training of quality assurance officers.
The statement said the fund would be used to finance the ongoing projects and subsequent special training in schools across the local government areas nationwide.
"Five out of the 13 junior girls model secondary schools under construction in states with the challenge of girl-child education had been completed and handed over to the beneficiaries.
"UBEC has concluded arrangement to carry out low-level advocacy to communities with varied educational challenges,'' it said.
According to the statement, UBEC and SUBEB have also condemned in strong terms the abduction of the Government Secondary School students in Chibok, Borno, by insurgents.
Meanwhile, the UBEC and SUBEB condemned the activities of the sect during  their 12th quarterly meeting in Owerri, the statement said.
The delegates called on Nigerians to support the Federal Government in the fight against all forms of terrorism in the country.
According to the statement, the abduction of school children has far reaching implications on accessing and maintenance of basic education delivery. (NAN)