FUNAAB Best Graduating Student Shares Experience, Hawked all Manner of Things
---
---
28-year-old Joshua and best graduating students of the Federal University of Agriculture, Abeokuta (FUNAAB) shares how he managed to achieve such despite all manner of obstacles.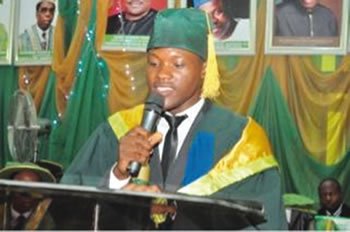 The story of 2012/2013 best graduating student of the Federal University of Agriculture, Abeokuta, Ogun State, Joshua Odutayo, typifies man's undying strive for scholarship and excellence in the face of all manner of obstacles.
First, his father lost his job when he was barely four years old. That was in the early 90s.
His father, according to him, was a manager with the defunct National Bank of Nigeria – until its liquidation.
Twenty-eight-year-old Joshua says since then, the man never had a stable job and the little money from his mother's petty trading could hardly cater for the family's upkeep, let alone settle the children's tuition.
Joshua, who graduated with a Cumulative Grade Point Average of 4.90, in Animal Production and Health, explains that due to the dwindled fortune of the family, he and his siblings had to become breadwinners of some sort.
"We hawked all manner of things on Lagos roads," he notes.
Joshua adds, "My life can be described as a testimony, as I never thought of going to the university, let alone graduating as the best student.
"I came from a humble background, with my father being a former bank manager with the defunct National Bank of Nigeria. He resigned in early 1990 because of the financial crisis that affected the bank and since then he never had a stable source of income. This affected our education."
Expatiating on the menial jobs he did, soft-spoken Joshua says he had to hawk bar soaps, and worked at construction sites as a labourer, among others.
The last of six children says the dwindled fortune of the family made him to attend five different primary schools.
He adds, "It was really tough and rough. My parents moved me from one primary school to the other, due to default in payment of my school fees.
"I ended up attending five different primary schools – Model Preparatory School; Tiyaogbe Nursery Primary School; Ayewa International Primary School; Bec Primary School, and Iju Station Primary School, all in the Iju Ishaga area of Lagos."
After he struggled and completed his primary education, the lad proceeded to Sonmori Comprehensive High School, Ifako Ijaye, also in Lagos.
Having completed his secondary education in 2005 and knowing that the wherewithal for further studies was lacking, Joshua notes, he prepared his mind for a part-time programme.
This idea, he adds, could not work as fate altered his academic agenda.
According to him, he had travelled with his father to the Federal College of Animal Health and Production Technology (Moor Plantation), Ibadan, to tidy up an arrangement for a part time Ordinary Diploma programme, when a chance meet with a former member of staff of FUNAAB changed the plan.
He says, "As I said earlier, I never thought I could attend a conventional university, because I had settled in my mind to study as a part time student.
"But as fate would have it, when I got admission as a pre-degree student in 2008, I had saved some money from the odd jobs I was doing and my parents also complemented it with their meagre savings."
Joshua says it was God's grace and his dedication to studies that saw him through the tough times.
He says, "I did not read late into the night. I enjoyed my sleep in the night. My strategy for success was that I made good use of the daytime.
"One, I did not miss any lecture. Two, I made sure I read over my notes and revised as many times as possible before sitting for any examination. This really helped me."
Currently on his National Youth Service Corps at the Government Day Secondary School, Panti, Lavun Local Government Area of Niger State, Joshua says he would have been happier serving in a farm.
"I would have loved to serve in a big farm where I would have the opportunity of practising what I have been taught," he stresses.
His dream is to be an academic, who will retire to his farm, just like the former President Olusegun Obasanjo.
He says, "I love agriculture and I believe if both the government and the private sector can give it the necessary attention, unemployment and scarcity of food will become history."
Asked whether he had a girlfriend on campus, his response is 'No.'
"I did not have any girlfriend in the worldly manner but I had many girls as my friends."
On his role model, Joshua says, "I don't really have any role model. I just want to be myself. But if you insist, I will say Jesus is my role model."
Meanwhile, 81 candidates bagged first class degrees in the combined 2011/2012 and 2012/2013 convocation.
Speaking earlier, FUNAAB Vice-Chancellor, Prof. Olusola Oyewole, noted that his 25 months leadership of the school had witnessed infrastructure development and human capacity building.
He said, "More than ever before, FUNAAB researchers are winning competitive international research grants for their works.
"Within the past two years, over 200 academic and non-academic staff have had opportunities to travel out of the country to attend international conferences and workshops, while many others have participated in local ones."
Promising to take the institution to a greater height, Oyewole said he would continue to provide "a focused, transparent and disciplined leadership." (Punch)