Gerson Lehrman Group (GLG) Social Impact Fellowship 2018 | For Social Entrepreneurs
---
Updated on by Olusegun Fapohunda
---
GLG Social Impact Fellowship …
Gerson Lehrman Group (GLG), is the world's leading membership for professional learning and expertise, is now accepting applications for its 2018 Social Impact Fellowship. Deadline for submission of GLG Social Impact Fellowship application is June 30, 2018.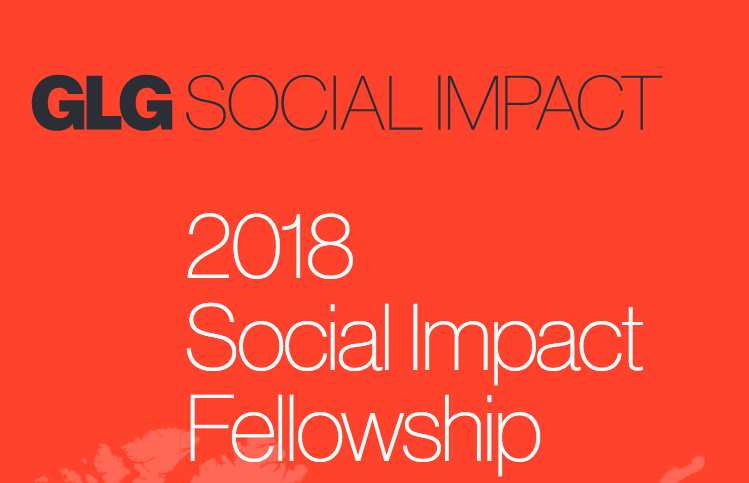 The GLG Social Impact Fellowship leverages GLG's learning platform to help top social entrepreneurs answer their organization's critical strategic and operational questions, at no cost. Through the two-year Fellowship, ambitious and visionary nonprofit and social enterprise leaders learn in tailored interactions with experts across GLG's membership and with each other.
GLG Social Impact Fellowship Benefits
The GLG Social Impact Fellowship leverages GLG's learning platform to help social entrepreneurs solve key strategic and operational questions, at no cost.
GLG Fellows lead organizations at critical inflection points that are ready to pursue a new phase in their growth.
Over the course of the two-year Fellowship, ambitious nonprofit and social enterprise leaders use tailored interactions with experts and with one another to navigate challenges along the pathway to scale.
High-touch strategic support from GLG staff provides Fellows with thought partners backed by our membership of more than 600,000 subject matter experts.
GLG Social Impact Fellowship Benefits
GLG Social Impact Fellowship Requirements
Fellows are leaders with strong records and visions for their organizations. They have great teams and do something innovative that's likely to scale. They are personally committed to learning, excited to grow professionally, and articulate ambitions for their organizations' growth which GLG is positioned to support.
Exclusions
Individuals, scholarships or endowments
Accelerators and grantmakers: We prefer to work with organizations directly delivering an impact program or product and to engage with the core of the organization, rather than the organization's beneficiaries.
Political parties
Sectarian entities (religious, political or ideological in nature): Organizations whose services are limited to a particular sect or who require recipients to adhere to a specific dogma, political point of view or religious practice in order to receive
Replication of national programs
GLG Social Impact Fellowship Selection Criteria
Nonprofit or social enterprises: We recognize that both nonprofit and market-based solutions make big impact in the world. A for-profit organization must be mission driven at the very core of its work. Typically, enterprise-operating budgets have been under $500,000/year. For-profit organizations will be asked to disclose ownership structures.
Funding: The operating budgets of our Fellow organizations have varied from $1M up to $15M. The most important consideration is that there is an established financial structure to support scale. While we recognize that funding is always a concern, we look for organizations beyond the point at which funding is a critical barrier to growth.
At an inflection point and pursuing scale: We look for organizations no longer in early development stages and whose leadership is ready to pursue ambitious growth. These organizations have proven the concept of their impact, and implemented their program at initial sites. During the two-year fellowship, participating organizations will be scaling significantly and seeking expertise to build mature operations and informed strategy.
Average three to five years in operation
Employ a minimum of five full time staff
Established leadership supporting key strategic planning and execution
CEO/Founder committed to leading through the Fellowship: The Fellow must understand GLG's value, can articulate use cases, and be open to GLG and our Council Members as thought partners. They must be relentlessly focused on impact, excited about learning, and open to feedback. This requires that they has developed a team and habits that allows for strategic thinking in pursuit organizational growth.
How to Apply for GLG Social Impact Fellowship
Follow the link below to apply:
Apply Here Official Link
Apply Before: June 30, 2018.
RECOMMENDED: Check Here for More Scholarships and Opportunities.