GOUNI Secures 100% Accreditation From NUC for 13 Programmes
---
Updated on by Olusegun Fapohunda
---
Godfrey Okoye University (GOUNI) has gained 100 per cent accreditation from the NUC for 13 undergraduate programmes.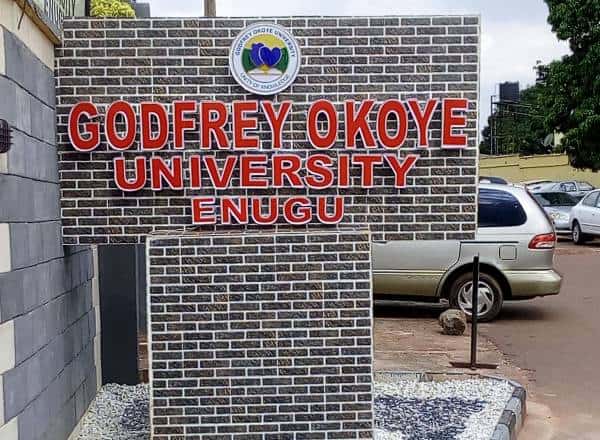 The National Universities Commission (NUC) has given full accreditation status to thirteen new courses run by Godfrey Okoye University (GOUNI), Ugwuomu-Nike, Enugu.
Correspondent Godwin Umeh reports that the Vice-Chancellor of the University, Reverend Father Professor Christian Anieke who announced this while briefing newsmen, said the courses are Law, Computer Science, Biochemistry, Economics, Psychology and Sociology.
Others are Banking and Finance, Management, Marketing, Public Administration, Education Economics, Education English and Literature studies as well as Education Political Science.
Reverend Father Professor Anieke attributed the success to hard work and team spirit by members of management and other staff of the university.
The Vice Chancellor enjoined the officials to continue to work as members of one family and make the institution what God wants it to be.
The Law Faculty has done what other faculties achieved in the past, scoring 93.9% " virtually all the courses scored above 90% in the accreditation", the Vice Chancellor said.
Rev. Fr. Prof. Anieke congratulated all the Heads of Departments and Deans for the tremendeous success in the accreditation of their courses. "I have always said it that Godfrey Okoye University is an eagle and this eagle has taken off, there is no stopping it; it is a University to watch; a university is more than a building, a university is the quality of scholars in the university. He advised those wishing to study to come to Godfrey Okoye University Enugu.
Rev. Fr. Prof. Anieke announced the release of the 2020/2021 Degree results, stressing the 12 students had first-class students."you know that first class here in Godfrey Okoye University is something else. When you make first-class here, then you cannot fail in any examination in the world because after the normal academic activities, we subject you to intelligent test and when you pass that, then you are indeed the first-class material and you can fly all over the world".
In their separate speeches, the Deputy Vice-Chancellor, Sister Professor MarySylvia Nwachukwu and other Principal Officers, Deans, and Heads of the affected Departments eulogized the ingenuity, patriotism and fatherly role of the Vice-Chancellor in the administration of the university.