How Parents Can Efficiently Plan For Their Child's Education
---
Last Updated on
---
How Parents Can Efficiently Plan For Their Child's Education: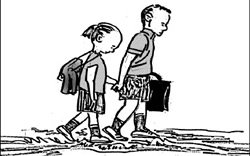 Inadequate preparation may hinder the plan for your child's education. IFE ADEDAPO writes on how you can make a workable plan
Most parents find it difficult to meet up with the financial obligation associated with their children's education. Inadequate planning earlier in life often contributes to abrupt termination of their children's education. Some parents often place the financial burden on their children by engaging them in petty money-making businesses to augment their meagre income.
In this present economy and with the ever-increasing hike in tuition fees year-in year-out, early planning is important in order to avert mistakes you might later regret in life and also give your children the bright future that they deserve.
The planning has to start now just the same way you plan for retirement, car and house purchase. You do not have to wait till they are enrolled in school. Your children are the best and most profitable investment you can ever have. Planning earlier will give you the fulfilment that you need as a parent and rest of mind in later years. Experts say quality education is important to break the intergenerational cycle of poverty and inequality plaguing our nation, because it translates to increased income.
Therefore, to secure the future of your child and before you become overwhelmed with school expenses, experts have pointed out how best to plan for your child's education.
Plan for the number of children
A lawyer with Subomi Chambers, Mrs. Funmilayo Bambeke, explains that initially, it is best for a family to plan for the number of children it will have. Thereafter, an education trust fund should be organised for each of the children immediately after their birth. Many banks and other financial institutions offer a variety of education trust fund packages that will help in protecting the future of the child.
Early planning
Experts say the sooner one starts planning, the better and more convenient it is, to avoid disappointing your children at the point in their life when they need your support most. Experts advise that families should start with a small amount which will eventually accumulate into a huge sum, keeping in mind that school fees increase as the child advances in education. The smart way is to start planning before the child is born, immediately after birth or when your child is still in pre-nursery. A monthly plan is advisable for salary earners or weekly plan for business owners. Especially when you have more than one child, make an estimate of the cost of their education altogether and start saving up. It does not matter what you are earning right now, just consult a financial advisor and identify a savings plan that is more convenient for you.
Calculate the cost
Experts say it is essential to calculate the cost implication of your child's education, and then decide how much you want to contribute and how much your child will be responsible for. For example, some parents commit to paying for tuition, room and board, giving the child the responsibility for the rest of the expenses. How you save and invest for your child's college education depends on how old your child is now, your overall financial situation, the amount you have to invest and the level of investment risk you can afford. Once you have your plans in place, review it regularly to incorporate new information about college costs and tax-advantaged ways to save for college. If you have more than one child, set up separate college funds to keep the investments appropriate for each one's age.
Scholarship or grant opportunities
Experts say parents should take a keen interest in the academic performance of their child right from the beginning of their academic life. They should assist them to develop a high intelligence quotient. Exposure to brain tasking and thought-provoking exercises will help to improve their critical thinking skills. This will increase their chances of securing a scholarship or grant to support the fund provided by their parents or guardians. In addition, a scholarship creates opportunities for academic excellence and supports the pursuit of their career. Scholarship opportunities exist nationally and internationally hence, speak to a high school counsellor about available scholarships and grants.
Identify a suitable education plan
The Regional Manager of Mutual Benefit Assurance Plc, Mr. Olabode Ajayi, explains the advantages of securing an appropriate plan that will be convenient for the parent and meet the educational need of the child. He says a good plan should minimise tax burden, ensure access to quality education and guarantee the future of your child's education whether the parents are alive or not. He says, "The educational plan could be monthly, quarterly, half-yearly or once a year, as long as it is convenient for the parent. The premium paid will depend on the ability of an individual to contribute; however, the higher the premium, the higher the benefits enjoyed."
Regular savings
Ajayi says regardless of the choice of education savings plan, the plan holder should take the contribution as a compulsory responsibility and should make it regular. The duration of the policy is also decided by the plan holder; however, it is advisable to plan based on the number of years the child will be enrolled in school. He also says that most savings and investment plans are flexible and can be reviewed with time to determine whether your savings are on track and if not, the premium can be increased to meet with set goals.
Plan for retirement also
Experts have pointed out that it is better to start planning for retirement alongside planning for ones child's education because retirement money will compound as the years go by and will provide a comfortable financial support in old age. Parents should not wait for their children's earning in old age, but should be independent of their children. It is a long-term investment plan that is available to all employees, unlike the education savings plan, in order to enjoy a comfortable lifestyle after retirement. Therefore, consult a trustworthy financial advisor about getting the most for your savings.
Source: Punch