Important Notice to all EBSU Fresh Students: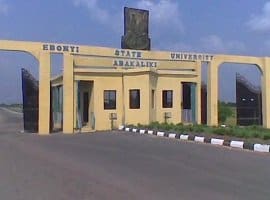 THE CURRENT FRESH STUDENTS OF EBONYI STATE UNIVERSITY HAD BETTER LISTENED TO THIS IMPORTANT ANOUNCEMENT.
ARISING FROM MANAGEMENT DECISION, CURRENT FRESHMEN OF EBSU ARE HEREBY REMINDED, FOR EMPHASIS, THAT THE FEE REGIME THEY ARE CURRENTLY PAYING SHALL BE CONTINUED TILL THEIR GRADUATION. THE PURPOSE OF THIS EMPHASIS IS TO ADVICE THE (FRESH) FIRST YEAR STUDENTS WHO MAY FEEL THAT EBSU FEES SHALL BE REDUCED NEXT YEAR TO PEACEFULLY WITHDRAW; AND, IF THEY HAVE COMPLETED PAYMENTS, THEY ARE FREE TO APPLY FOR REFUND.
THIS IS FOR THE INFORMATION OF ALL CONCERNED STUDENTS, PARENTS/GUARDIANS AND INDEED THE GENERAL PUBLIC.
SIGNED: SAM N. EGWU
REGISTRAR