British Council: Important Notice to UNILAG Students
---
---
Important notice to the University of Lagos, UNILAG students.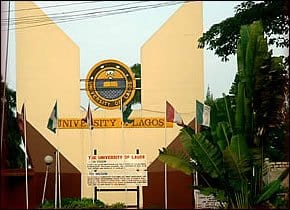 The Admissions Office, University of Lagos has not been able to verify the results/certificates presented by the under-listed students with the British Council. This is because the Council insists that affected students should, personally, initiate the verification process.
Consequently, all under-listed students of the University are to proceed to the British Council to request for the verification of their results. The verified results should be sent to the Registrar, University of Lagos, on or before Thursday, April 30, 2015.
Please note that any student who does not comply with this instruction stands the chance of forfeiting his/her admission. For further information, contact the Admission Officer, 1st Floor, Senate House, University of Lagos, Akoka.
NAME OF STUDENTS

EXAMINATION NUMBER

YEAR OF GRADUATION

PRESENT COURSE

YEAR OF ADMISSION INTO PRESENT COURSE

1

OKAFOR KWELU

2008

ELECT/ELECT ENG

2009/2010

2

OLADIRAN OYINLOLA OJUOLAPE

NG209/0011

2009

ELECT/ELECT ENG

2010/2011

3

MONWE OLUCHI PEACE

NG230/0032

2009

CHEMICAL ENG

2011/2012

4

CYNTHIA NNENNA MARYAM ISA-ADEJO

NG193/00

2010

LAW

2011/2012

5

ISMAIL MOYOSOREOLUWA ALLI-BALOGUN

NG209/0019

2011

LAW

2011/2012

6

IYANDA TOLULOPE OLUNIKE

NG226/0063

2009

LAW

2011/2012

7

OSARETINOWAN OLUWATISIN TUNDE O

NG150/0036

2011

LAW

2011/2012

8

SODIPE OPEYEMI ADURAGBEMI

NG226/0114

2010

LAW

2011/2012

9

TAKURO OLAMIDE GBEMISOLA

NG209/0041

2010

QUATITY SURVEYING

2011/2012

10

KASOPEFOLUWA JOHNSON

NG171/0027

2010

MECHANICAL ENG

2012/2013

11

ADELEKAN ADEDIRAN OLUBUKUNMI

2011

CHEMICAL ENG

2012/2013

12

ANIYI FIYIFOLUWA JOHN

NG226/0026

2011

CHEMICAL ENG

2012/2013

13

NZEWI SOMTOCHUKWU OGECHUKWU

NG226/0081

2010

CIVIL ENG

2012/2013

14

SOLO-EDEMA URENMISAN

NG226/0102

2011

ELECT/ELECT ENG

2012/2013

15

CHUKWU ELTON-JOEL CHISOMAGA

NG226/0033

2010

LAW

2012/2013

16

SOSANYA BABASOLA TIMILEYIN

NG226/0121

2009

MECHANICAL ENG

2012/2013

17

EORAMO OLUBUNMI OLUFEMI

NG226/0046

2012

CHEMICAL ENG

2013/2014

18

MONWE CHUKWUNOSO FRANCIS

NG226/0060

2011

CHEMICAL ENG

2013/2014

19

OLUSANYA OLUKOYA OLUYEMI

NG226/0061

2008

MECHANICAL ENG

20

FALUA MONISOLA ISIOLA

NG226/0051

2010

ENGLISH

2012/2013

21

ANDIKAN UBONG OBOT

NG151/0104

2011

CREATIVE ARTS

2012/2013

22

AISHA OYINDAMOLA YETONDE

AE121/4488

2010

PSYCHOLOGY

23

AISHA OYINDAMOLA YETONDE

AE121/4968

2011

PSYCHOLOGY

24

IFEOMA KALU

90848:7094:L2O016572:230596

2012

ENGLISH

2014/2015

25

IFEOMA KALU

NG271/0003

2012

ENGLISH

2014/2015

26

TUNDE-BRAIMOH OYINKANSOLA

NG221/0042

2013

LAW

2014/2015

27

AJIBODU EMMANUEL OLUWASEUN

NG226/0011

2013

MET & MAT

2014/2015

28

NWOSU-IGBO CHIMEREMOCHI

NG226/0064

2012

ELECT/ELECT ENG

2014/2015

29

UME IJEOMA NONYE

NG166/0003

2012

ELECT/ELECT ENG

2014/2015

30

OGUNDEKO LUKMON TEMITOPE

NG150/1406

2010

CHEMICAL ENG

2009/2010

31

OSHIDERO JAMES OLUWAMAYOWA

NG294/0007

2010

CHEMICAL ENG

2011/2012

32

EMMANUEL OKON NKPUBRE

NG228/0006

2011

CIVIL ENG

2011/2012

33

ADEYEMO OLUSOJI JACOBS

NG150/1430

2009

LAW

2011/2012

34

TEMITOPE SAIDAH ODEYINKA

NG150/0093

2010

LAW

2011/2012

35

ONI CHUKWUMA JEFFREY

NG150/1339

2010

PET/GAS ENG

2011/2012

36

ADESOLA DAMILOLA

NG150/1308

2010

LAW

2012/2013

37

SANUSI SULAIMON

NG150/1828

2010

CHEMICAL ENG

2012/2013

38

KEHINDE SORETIRE

NG214/0092

2010

ELECT/ELECT ENG

2012/2013

39

ALABI CHARLES

NG150/2104

2010

LAW

2012/2013

40

OJO ABIODUN

NG150/1186

2007

LAW

2012/2013

41

KOSOPEFOLUWA JOHNSON

NG171/0049

2011

MECHANICAL ENG

2012/2013

42

KOLAWOLE ABAYOMI AKINTAYO

NG005/0058

2013

ARCHITECTURE

2013/2014

43

OGUNYALE KEHINDE

NG1502701

2011

BIOCHEMISTRY

2013/2014

44

ADEYEMI ENIOLA

NG1501232

2011

BOTANY

2013/2014

45

AYOOLA ABIODUN

NG150/1226

2012

CHEMICAL ENG

2013/2014

46

IGBEDION KEHINDE

NG1501440

2010

CHEMICAL ENG

2013/2014

47

AKOSILE SUNDAY

NG150/3241

2011

CHEMISRTY

2013/2014

48

AYODEJI OLUWADAMILOLA AKINTOYE

NG005/0041

2013

COMPUTER ENG

2013/2014

49

ENOBUN GEORGE

NG150/1050

2012

COMPUTER ENG

2013/2014

50

ABUDAH CYRIL ALUWA

NG190/0031

2013

ELECT/ELECT ENG

2013/2014

51

AINA PETER ADEYEMI

NG150/1304

2012

LAW

2013/2014

52

ENYINANYA SANDRA

NG150/1718

2009

LAW

2013/2014

53

OGUNSEMORE JAPHET OLAMIDE

NG1501121

2010

MARINE BIOLOGY

2013/2014

54

ORAGWU NNAMDI BENJAMIN

NG1501050

2010

MARINE BIOLOGY

2013/2014

55

AITUA RUTH

NG150/1992

2011

MICROBIOLGY

2013/2014

56

AFORKA PATRICIA NWANNEKA

NG150/0265

2012

MICROBIOLOGY

2013/2014

57

OGUNYALE ENIOLA TAIWO

NG1502101

2011

MICROBIOLOGY

2013/2014

58

ODEJAYI AFEEZ OMOTOLA

NG1501310

2012

MICROBIOLOGY

2013/2014

59

BAMGBOSE OLUWASEYI OTOKINI

NG204/0007

2013

PET/GAS ENG

2013/2014

60

SHITTU ABD-HAFIZ OLUWATOBI

NG214/0153

2012

PET/GAS ENG

2013/2014

61

OLUYEMO TOBI

NG150/0199

2011

PHYSICS

2013/2014

62

ABIOYE ESTHER

NG150/1990

2013

MICROBIOLGY

2014/2015

63

OGUNTADE RASHEEDAT KEMI

NG005/0002

2013

BIOCHEMISTRY

2014/2015

64

KALESANWO ADEDOYIN

NG1501128

2012

BOTANY

2014/2015

65

SANNI SHAMSIDEEN

NG150/0924

2011 JUNE

BUS. ADMIN

2014/2015

66

ABDULKAREEM MARIAM

NG150/1309

2013 JUNE

BUS. ADMIN.

2014/2015

67

IGBOANUGWO EZIOMA

NG150/1372

2012 JUNE

BUS. ADMIN.

2014/2015

68

ADEYEMO ADURAGBEMI

NG150/1415

2012

CELL-BIOLOGY

2014/2015

69

OLORUNFEMI ESTHER

NG150/2101

2013

CELL-BIOLOGY

2014/2015

70

OLUSANYA OLUWATOFUNMI

NG150/1178

2011

CHEMISTRY

2014/2015

71

ADEDEJI ADEDAMOLA A

NG214/0006

2014

DENTISTRY

2014/2015

72

ADISA TEMITOPE

NG1501288

2012 JUNE

FINANCE

2014/2015

73

ISIAKA YUSUF

NG1501094

2012 NOV.

FINANCE

2014/2015

74

ODUFEJO ADEGBUYI OYEWOLE

NG150/1304

2012 JUNE

FINANCE

2014/2015

75

SANNI RASHIDAT OMOWUNMI

NG1501374

2012 NOV.

FINANCE

2014/2015

76

MONEKE CHUKWUEBUKA

NG150/1336

2012

GEOPHYSICS

2014/2015

77

OREOLUWA ELIZABETH OPEKE

NG290/0012

2013

GEOPHYSICS

2014/2015

78

OKO-OSI OLALEKAN

NG150/0922

2012 JUNE

INSURANCE

2014/2015

79

ADELEYE IBRAHIM

NG150/2101

2011 NOV.

IRPM

2014/2015

80

ADENEKAN SYLVESTRE

NG1501201

2010 JUNE

IRPM

2014/2015

81

ATANDA SIDIKAT

NG150/0922

2012 NOV.

IRPM

2014/2015

82

SULAIMON ABIBAT

NG1501199

2013 JUNE

IRPM

2014/2015

83

ADEMOYE OMOWUNMI MUTIAT

NG150/1722

2009

MARINE BIOLOGY

2014/2015

84

IBEH TOBECHUKWU

NG190/0018

2014

MBBS

2014/2015

85

AKPAN ANIEKANABASI

NG226/0071

2013

MBBS

2014/2015

86

OBIDIKE VIVIAN FRANKA

NG204/0257

2012

MCROBIOLOGY

2014/2015

87

ADEWUYI DAN OLUWAKEMI

NG150/1182

2011

MICROBIOLGY

2014/2015

88

EHIMARE GREGORY

NG150/0181

2009

MICROBIOLGY

2014/2015

89

OKE ABDULKABIR

NG150/1199

2013

MICROBIOLGY

2014/2015

90

SANUSI AYOMIDE

NG150/1133

2013

MICROBIOLGY

2014/2015

91

JIMOH HALIMAH

NG1502162

2010

RADIOGRAPHY

2014/2015

92

OYEDELE ROSELINE

NG1501767

2013 JUNE

INSURANCE

2014/2016

93

MUSTAPHA SHAKIRAT

NG150/1767

2013 JUNE

INSURANCE

2014/2017

94

KOLAPO MOBOLAJI

NG150/1278

2011 JUNE

ACCOUNTING

2014/2018

95

SANUSI YETUNDE

NG1501273

2012 JUNE

ACCOUNTING

2014/2019

96

OSISANYA OLUWASEUN

NG150/1220

2012 JUNE

ACCOUNTING

2014/2020

97

ONI JOHN

NG150/1208

2011 JUNE

ACCOUNTING

2014/2021

98

AYODELE OLUWATOBI

NG150/1229

2012 NOV.

ACCOUNTING

2014/2022

99

ODEMUYIWA OLUWATOSIN

NG150/1377

2012 JUNE

ACCOUNTING

2014/2023

100

GIWA NURUDEEN

NG1501800

2010 JUNE

ACCOUNTING

2014/2024

101

ODUNUGA OLUWATOBI

NG150/1373

2012 NOV.

ACCOUNTING

2014/2025

102

AKINLOLU DAVID

NG150/1240

2012 NOV.

FINANCE

2014/2026

103

AROWOSERE AJIBOLA

NG150/1499

2010 NOV.

FINANCE

2014/2027

104

KAREN OLUWATOROMO A.

NG 214/0345

2013 JUNE

ACTUARIAL SC.

2014/2028

105

ODUNUGA DAMILARE

NG1501074

2012 NOV.

BUS. ADMIN.

2014/2029

106

IDOWU SULIAT

NG150/1103

2011 JUNE

BUS. ADMIN.

2014/2030

107

ADEWALE OLABODE

NG1502140

2011 JUNE

IRPM

2014/2031

108

AZEEZ OLUWAKEMI

NG1501477

2011 NOV.

IRPM

2014/2032

109

AREGBESOLA OLAMIDE

NG150/0018

2012 JUNE

IRPM

2014/2033

110

ADEBARA JOHN

NG1501009

2009 JUNE

INSURANCE

2014/2034

111

OYETOBI SODIQ

NG150/1884

2012

PSYCHOLOGY

2014/2015

112

KOWOBARI YETUNDE EYIMORITO

NG204/0210

2013

PSYCHOLOGY

2014/2015

113

ADEKOYA SHERIFF

NG150/2182

2012

PSYCHOLOGY

2014/2015

114

ADEBAYO EMMANUEL

NG150/1088

2013

ENGLISH

2014/2015

115

OLAMIDE AIYEOLA

10960:8212:L0H053066:071296

2012

PSYCHOLOGY

2014/2015

116

ORIMOLOYE TEMITAYO KOLAWOLE

NG214/0261

2014

PET/GAS ENG

2014/2015

117

OPAKUNLE JOHN ONABOWALE

NG005/0011

2013

ELECT/ELECT ENG

2014/2015

118

UDO GOD'S LOVE

NG150/1251

2013

ELECT/ELECT ENG

2014/2015

119

EWUZIE CHIMAUCHEM

NG005/0007

2013

ELECT/ELECT ENG

2014/2015

120

DUROJAIYE PETER OLADIPUPO

NG341/0031

2014

ELECT/ELECT ENG

2014/2015

121

FOLORUSHO DAMILOLA

NG150/2109

2012

COMPUTER ENG

122

STEPHEN OLUWAGBEMIGA OLATUNBOSUN

NG214/0250

2014

MECHANICAL ENG

2014/2015

123

AKINTIMEHIN AYOMIDE OLAWALE

NG150/0038

2014

MECHANICAL ENG

2014/2015

124

ODEY KONYE KOKIM

NG064/0003

2013

ELECT/ELECT ENG

2014/2015

125

ODEY KONYE KOKIM

NG064/0029

2012

ELECT/ELECT ENG

2014/2015

126

ONAFESO OYEOLUWA CALEB

NG226/0104

2010

ECONOMICS

2012/2013