2021 JAMB UTME CBT Practice App for Android Phones [Free Download]
With the MySchoolGist JAMB CBT Practice App, you will be able to practice over 18,800 real and verifiable JAMB past questions with detailed explanations on your Android Phone.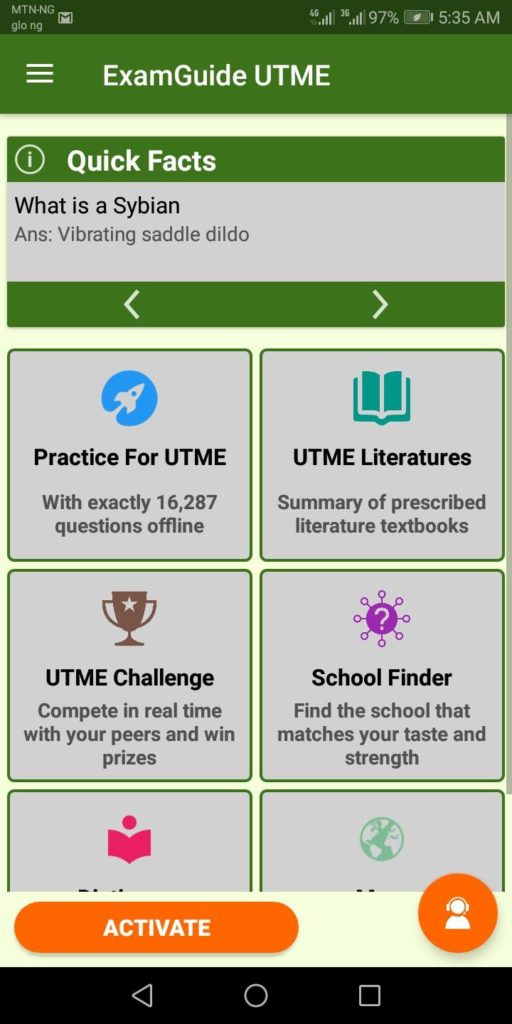 We recently launched the JAMB CBT Practice Software for our exclusive readers to practice JAMB past questions and answers from their computers. We later discovered that some of our members who don't have computers were unable to use the application, so we decided to make things easier by launching a mobile app to carry mobile users.
MSGist JAMB CBT Practice App greatly prepares candidates for UTME. It has 24 subjects with over 18,800 real and verifiable JAMB past questions. It has an on-screen calculator and a cool user interface that looks like that of JAMB. You can decide to practice questions from any topic of interest. It is simply one of the best CBT apps that can boost your chance of acing UTME.
JAMB CBT Practice App works 100% offline – you don't need an internet connection after installing it.
Features of MySchoolGist JAMB CBT Practice App
 Decide Everything

– easily change the number of questions, exam year, exam time, exam mode and username.

No Subscription Fee

– activate the premium features just once with N1,500 and gain access to all features forever.

18,800+ Questions Available Offline

– practise authentic UTME past and model questions from 23 subjects with explanations.

Practice By Topics

– gain mastery of any topic by practising questions from any topic of interest

Practice One Or More Subjects At Once

– you can easily take more than one subject at a time.

Summary of 16 JAMB prescribed literature textbooks

– study literature textbooks and practice over 1000 likely questions

Dictionary

– get the definition of over 92,000 words offline

Offline Chatbot

– chat with Clara to find answers to most requests using our custom-built Chatbot technology with amazing artificial intelligence

Voice (Text-To-Speech)

– you can listen to questions and explanation in an interesting way.

Built-In Calculator

– use the built-in calculator to crunch numbers without leaving the exam interface.

Rich Result

– get a detailed analysis of how you perform on any exam.

Bookmarks

– bookmark any question that you wish to view later.

Career Guide

– Easily find the career that matches your interest

School Finder

– use School Finder to find schools offering any course of study in Nigeria with well-structured JAMB combination and requirements

UTME Challenge

– compete with your peers and win prizes.
Other things you need to know about the CBT App
Users can choose to shuffle question, shuffle options and set exam time.
Users can practice more than one subject at a time.
Users can select exam year and the number of questions.
Users can practice specific topics of interest in each subject.
Has a simple to use and cool user interface.
Shows the number of attempted questions.
Users can easily switch from one question number to another.
Users can view at a glance all correctly answered questions, and those not answered correctly.
Shows summarized and detailed result after practice in Tables and Charts.
Download and Activate MySchoolGist JAMB CBT Practice App for Free
Follow the link below to download the app on your Android Device:
 As the application is a downloadable product, you can start practising right away! –
How to Activate the Application
We are giving out the application activation code/license for just NGN2,000. You will agree with me that if you are to purchase JAMB past questions for four subjects, you will be spending nothing less than NGN4,000. In this case, you are not limited to four subjects which means multiple persons can use the application even if you all offer different courses.
Follow the link below to buy an activation PIN.
If you think this post can be helpful to somebody else, please share it using the buttons below!
Tagged with : www.jamb.gov.ng | Joint Admissions and Matriculation Board : JAMB