2014 JAMB CBT UTME: JAMB Officials Apprehend 2 For Impersonation
---
Updated on by Olusegun Fapohunda
---
2014 JAMB CBT UTME: JAMB Officials Apprehend 2 Suspects For Impersonation: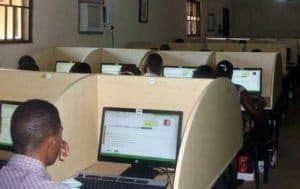 Two persons were on Saturday apprehended at the JAMB Unified Tertiary Matriculation Examination at the Yaba College of Technology Centre for alleged impersonation.
The Team Leader Supervising the centre, Mrs Ebere Okeke, told the News Agency of Nigeria (NAN) that the suspects were apprehended during biometric verification screening.
Okeke said that one of the suspects presented himself as a candidate at the centre but that his thumb print and picture did not correspond with the information on JAMB registration data.
"The original candidate is Rasaq Sheu with registration number 47288350GJ and examination number C07501029, while the impersonator is Salako Olatunji, a 20-year-old tutor in a private school in Ogun.
"We looked at the picture on our verification system and the person standing before us and we discovered that he was trying to impersonate."
Okeke, who is an Assistant Director in JAMB, told NAN that the original owner of the examination stood somewhere watching the impersonator but when problem started he turned himself in for questioning.
"The NCDSC will handle the case and transfer it to the police,'' she said.
Olatunji told NAN that he was assisting his friend to gain admission into the university because he gave him 160 dollars to pay for his U.S. Visa fee.
However, the duo was handcuffed and whisked way by policemen from the Sabo Police Station. (NAN)