Kogi State Polytechnic (KSP) 'No School Fees, No Examination' Notice to Students
Kogi State Polytechnic (KSP) to enforce the No Payment of School Fees, No Examination policy during the first-semester examination for the 2020/2021 Academic session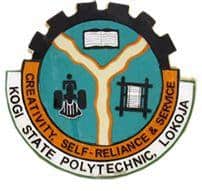 This is to inform all students of the Kogi State Polytechnic (KSP) that the management has announced that the rule of No Payment of School Fees, No Examination will be fully enforced for the first semester, 2020/2021 academic session examinations.
Kogi State Poly 'No Fees, No Exam' Policy
This is to inform all students (ND 1& 2 as well as HND 1 & 2) that the approved policy of NO PAYMENT OF SCHOOL FEES NO EXAM will be STRICTLY enforced during the conduct of the First Semester Examination of the 2020/2021 Academic Session.
You are therefore directed to have your coloured docket duly Signed by your HOD, Accounting Officer and you. The docket is the major instrument that shall be used to grant any student access to the approved Examination Centres.
Also, check your Departmental Notice Board to find out if you are a duly registered student of this noble Polytechnic.
Share This Post

: If you think this post can be helpful to somebody else, please share it using the buttons below!
Follow

Us

More Posts From ›› www.kogistatepoly.edu.ng | Kogi State Polytechnic : KSP