Kogi State Polytechnic (KSP) 'No School Fees, No Examination' Notice to Students
Kogi State Polytechnic (KSP) to enforce the No Payment of School Fees, No Examination policy during the second-semester examination for the 2019/2020 Academic session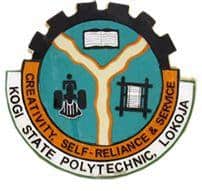 This is to inform all students of the Kogi State Polytechnic (KSP) that the management has announced that the rule of No Payment of School Fees, No Examination will be fully enforced for the second semester, 2019/2020 academic session examinations.
Kogi State Poly 'No Fees, No Exam' Policy
You would recall that the student leadership on behalf of all students who have not paid school fees appealed to and had an agreement with the polytechnic Management to be allowed to write the first-semester examination for the 2019/2020 Academic session and pay all fees before the Second-semester examination.
In view of this, all students who have not paid their school fees are to settle their indebtedness (School fees) within two weeks beginning from Monday 22nd February 2021 to Monday 8th March 2021 After the expiration of two weeks grace stated above, the payment of School fees thereafter shall attract the payment of an additional sum of five thousand naira (N5000) only as a penalty for late registration. The period shall begin on Tuesday 9th March 2021 and end on Monday 15th March 2021.
TAKE NOTICE: that Any Student, who fails to comply with the directive contained therein, is deemed to have voluntarily withdrawn from the Polytechnic.
Thank you
If you think this post can be helpful to somebody else, please share it on Whatsapp, Twitter, Facebook. There are buttons below for this (easy to use too)!
Tagged With : www.kogistatepoly.edu.ng | Kogi State Polytechnic : KSP