Madonna University Pre-Degree Admission Form 2020/2021
Madonna University (MU) pre-degree programme admission form for the 2020/2021 academic session is now on sale. Madonna University pre-degree form is FREE!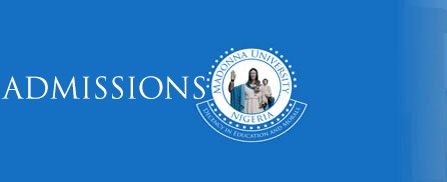 Applications are invited from suitably qualified candidates for admission into the  Madonna University pre-degree programme for the 2020/2021 academic session at the Elele, Okija and Akpugo campuses.
Madonna University pre-degree is  a 9 month duration programme, aimed  at the preparation of candidates to participate in the Unified Tertiary Matriculation Examination (UTME), General Certificate Examination (GCE) and National Examination Council (NECO).
SEE ALSO: Madonna University Pre-Degree School Fees Schedule.
Madonna University Pre-Degree  Programmes.
1.  FACULTY OF BASIC MEDICAL SCIENCES   
Department of Anatomy
Department of Physiology  
2.  FACULTY OF MEDICINE
College of Medicine and Surgery
3.  FACULTY OF ENGINEERING AND TECHNOLOGY
Department of Chemical Engineering
Department of Civil Engineering
Department of Electrical/ Electronic Engineering
Department of Food Science and Technology
Department of Mechanical Engineering
Department of Petroleum Engineering
Department of Computer Engineering
4.  FACULTY OF MANAGEMENT SCIENCES
Department of Accounting
Department of Banking and Finance
Department of Business Administration
Department of Marketing
5.  FACULTY OF SOCIAL SCIENCES  
Department of Entrepreneurship                            
Department of Library and Information Science
Department of Mass Communication
Department of Political Science
Department of Public Administration
Department of Philosophy
Department of Psychology
Department of Sociology
Department of Economics
Department of International Relations
6. FACULTY OF EDUCATION / ARTS
Department of English Language
Department of Business Education
Department of Computer Science Education
7.  FACULTY OF PHARMACY
8.  FACULTY OF LAW
9.  FACULTY OF SCIENCES                                                                                
Department of Microbiology
Department of Biochemistry
Department of Computer Science
Department of Industrial Chemistry
10.  OTHER DEGREE AWARDING PROFESSIONAL PROGRAMMES
Optometry (OD)
Public Health (B.Ph)
Nursing Science (B.Nsc)
Medical Laboratory Science (B.Mls)
Madonna University Pre-Degree Admission Requirement.
Prospective candidates shall have attempted NECO/SSCE/GCE and their equivalents.
How to Apply for Madonna University Pre-Degree Admission
MODE OF APPLICATION: Interested applicants shall visit any Campus of Madonna University, Nigeria, with their relevant credentials and two passport Photographs or any of MayFresh Mortgage Bank Nation-wide.
ONLINE APPLICATION: Our Pre-Degree admission form is also available online at Fresh Applicants link Interested candidate can fill and submit the form online to start the addmission process.  
CHARGABLE SCHOOL FEES: School fees comprising Tuition and Accommodation for the programme is TWO HUNDRED AND SEVEN THOUSAND NAIRA (N207, 000.00) only.
Eligible candidates are invited to enroll into the programme while the offer lasts.
For further enquiries contact us
admissions@madonnauniversity.edu.ng
registrar@madonnauniversity.edu.ng
info@madonnauniversitu.edu.ng
Telephone Lines:
08137180957, 08078130033, 08078129083
08135955826, 08148396740, 07082137027
If you think this post can be helpful to somebody else, please share it using the buttons below!
Tagged with : Madonna University | www.madonnauniversity.edu.ng