Nigerian Pupil Selected as Member of National Society of High School Scholars in US
---
Last Updated on
---
Nigerian Pupil Selected as Member of National Society of High School Scholars in US: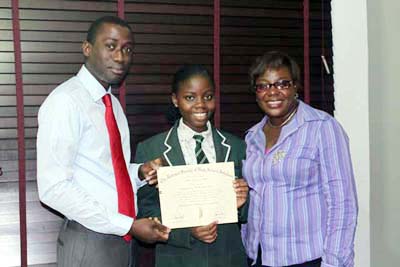 In recognition of her academic excellence and outstanding leadership quality, a pupil of Doregos Private Academy Ipaja Lagos, Miss Adebola Duro-Aina, has been selected as a member of National Society of High School Scholars (NSHSS) of the United States of America (USA).
The society which was founded in 2002 in the United States of America (USA), has over 950,000 members spread across over 160 countries of the world, enjoying benefits such as scholarship opportunities, academic competitions, free events, membership-only resources, publications, participation in programmes offered by educational partners, personalised recognition items, and publicity honours.
NSHSS Founder and Chairman, Claes Nobel, said he was honoured to recognise the hard work, sacrifice and commitment demonstrated by Adebola to achieve this exceptional level of academic excellence, stating that she is now a member of a unique community of scholars – a community that represents our very best hope for the future.
"You have joined a dynamic organisation that connects young scholars to educational community that shares a commitment to excellence, education, and world betterment", he added.
Speaking on the achievement, the proprietor of Doregos Private Academy, Mrs. Clementina Doregos, pointed out that the selection of Adebola is justified in view of the school's mission of producing world class student that can rub shoulders with the best all over the world.
She explained that education remains the foundation of greatness for any nation and called on governments at various levels to pay particular attention to developing a virile educational system.
According to her, the development of any nation is dependent on the level of its human resources which is shaped by good educational system. She congratulated Adebola on the achievement, urging her not to relent in her efforts.
The recipient, Adebola, who was happy over the achievement encouraged other pupils to always strive for excellence, saying Nigerians are high achievers.
The National Society of High School Scholars (NSHSS) recognises academic excellence at the high school level and encourages members of the organisations to apply their unique talents, vision, and potential for the betterment of themselves and the world. It also provides scholarship opportunities for deserving young people. Since inception, NSHSS has awarded more than $2million in tuition and programme scholarship. The society has its international headquarters in Atlanta, United States of America.