Osun State Polytechnic (OSPOLY) Iree Sets New Registration Deadline for 2018/2019 Academic Session
Osun State Polytechnic, Iree, OSPOLY registration deadline for ND 2 and HND 2 students for the 2018/2019  academic session has been announced.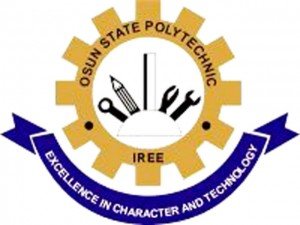 This is to inform all the ND II and HND II students of the Osun State Polytechnic, Iree that are yet to complete their registration for the 2018/2019 academic session that the institution's management has announced a new deadline.
OSPOLY Iree Registration Deadline Notice
This is to inform all ND2 and HND2 students of the Institution that the registration for 2018/2019 for some students is incomplete. Some of these students failed to upload their passport photographs on their portal.
Consequently, all current ND2 and HND2 students are enjoined, In their own interest to log in into their pages on the portal and upload their passport photographs as appropriate.
Any HND2 student who fails to comply with this directive will not be mobilized for the next batch of the NYSC as there may be problems with the collection of their Notification of Results.
I am to enjoin all ND2 students to also comply with this directive in order to update their records with the appropriate authorities.
All concerned students are to comply with this directive on or before 12noon on Wednesday, 27th January 2021
Thank you
J.A. Fadeji
for: Registrar
If you think this post can be helpful to somebody else, please share it on Whatsapp, Twitter, Facebook. There are buttons below for this (easy to use too)!
Tagged With : www.osunpoly.edu.ng | Osun State Polytechnic Iree : OSPOLY