Police arraign 8 students of Lagos State University (LASU) before an Ikeja chief magistrate's court over fee protest.
Eight protesting students of the Lagos State University, LASU, arrested by the Police on Tuesday were, yesterday, arraigned before an Ikeja chief magistrate's court for alleged breach of public peace.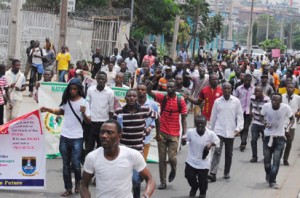 The students were arraigned before Magistrate Eniola Fabanwo for conducting themselves in a manner likely to cause breach of public peace.
Moments after the charges were read to them by the court registrar, they all pleaded not guilty to the one count offence.
The students, who were brought to the court untidy, alleged that they were maltreated by the Police, who apart from beating them also forced them to evacuate waste from a septic tank.
They were accused of allegedly hijacking a vehicle, LAGBUS No P004 with number plate SMK 719 XK, property of Lagos State Government.
The five male and three female students arraigned are Bolarinwa Olamide (male, 23 ), Oludare Samuel Olayinka (male, 18), Oni Victoria (female, 18), Fatukasi Timilehin (male, 19) and Babatunde Bolarinwa (male, 24).
Others are Ajayi Taiwo (female, 24 ), Olatimihan Taiwo (female, 20) old and Akani Segun (male, 27).
The trial magistrate has since granted them bail in the sum of N10,000 each with a surety each, who should be their relative.
According to the Police, the students allegedly committed an offence which contravenes Section 166 (D) of the Criminal Laws No 11 Vol. 44 Law of Lagos State of Nigeria 2011.
The LASU students took to the streets in Lagos, Tuesday, causing traffic gridlock along the Lagos‑Abeokuta expressway, protesting hike in their school fees.
They also blocked the road leading to the domestic wing of the Murtala Mohammed Airport, Ikeja, forcing motorists to spend hours in traffic.
Our wards are not students —Parents
Meanwhile, some parents of three of those arraigned have argued that their wards were not students, but were wrongly arrested by the Police while walking along the streets during the protest. They urged the government to intervene to ensure the release of their children.
Earlier, the protesting students had urged Governor Babatunde Fashola to direct the closure of the institution's payment and registration portal, but there was no response from the authorities.
They also demanded that the state government immediately reverse fees payable to N48,500 maximum or nothing.
The new fees are: Education, N193,750; Social and Management Science, N223,750; Law, 248,750; Communication/School of Transport, N238,750; Science, N258,750; Engineering, N283,750; College of Medicine, N308,750.