Get A Monthly Support Fund of N20,000 With Your Business Idea This December
---
Updated on by Olusegun Fapohunda
---
Are you a young and aspiring entrepreneur or do you currently operate a small business?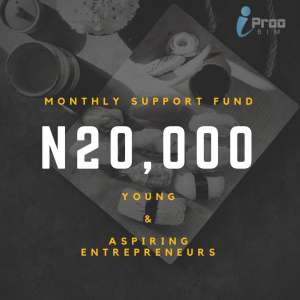 Here is an opportunity for you to get a support fund in the monthly iProo Trivia by creating a verified brand channel for your business idea on iProo.
PROCEDURE:
Visit www.iproo.net/trivia and click the 'Create My Channel' button at the bottom of the page.
Once you have created your channel by filling the registration form which includes the provision of your bank details, proceed to set-up your profile by uploading your profile picture and begin sharing your business ideas on your timeline. Do not forget to save your login details.
Endeavour to verify your channel before the 28th of December so you can be considered for the December iProo Trivia from which you could obtain a support fund of N20,000 which would be credited to your bank account.
A verification imprint will be displayed on your personal profile once you have observed the verification procedure.
To create a brand channel for your business idea today, visit www.iproo.net/trivia
To login to your iProo account after successful registration, visit the homepage, and click on 'Account' at the menu section.
For instant updates, kindly follow www.facebook.com/i.proo or www.instagram.com/iproo_bim
RECOMMENDED: Check Here for More Scholarships and Opportunities.