TASUED Tasks Students to be of Good Conducts
Speaking at CEPEP Matriculation Ceremony, Tai Solarin University of Education, TASUED Vice Chancellor charged students to be of good conduct.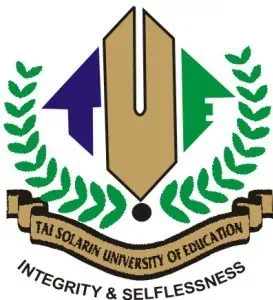 The Vice Chancellor of Tai Solarin University of Education, Prof. Oluyemisi Obilade has charged students on the need to always exhibit high level of moral decency with  a goal of protecting the TASUED brand at all time.
Prof. Obilade was speaking at the 2014/2015 Academic year matriculation ceremony of the Centre for Part-Time and External Programme (CEPEP) which held recently at the University's main campus, Ijagun.
She noted that matriculation marks the beginning of scholar/professional advancement in the life of the students.
"The task of learning is not easy. It requires discipline and commitment.  TASUED ensures high academic standard.  We therefore do not expect you be lawless, engage in vices such examination malpractice cultism, hooliganism so on" she further added.
Present at the ceremony were the Registrar, Dr. Femi Kayode; The Bursar Mr. IfeoluwaOdusanya; the Librarian, Mr. JasiliuKadiri; Dean of Colleges among others.
If you think this post can be helpful to somebody else, please share it on Whatsapp, Twitter, Facebook. There are buttons below for this (easy to use too)!
Tagged With : www.tasued.edu.ng | Tai Solarin University of Education : TASUED