Osun State Govt Distributes Opón Ìmò to Teachers
---
---
Osun State Govt Distributes Opón Ìmò to Teachers: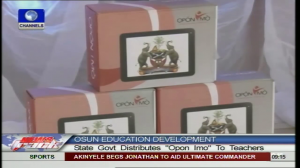 The Osun State government has commenced the distribution of the 'Tablet of Knowledge' otherwise referred to as the "Opón Ìmò" to teachers of Grade 12 level of the public secondary schools across the state.
At the flag- off ceremony at Ilesa high school in the state, the deputy governor, Titi Laoye -Tomori said that the introduction of the Opón Ìmò was to ensure that all students and the teachers were integrated into the knowledge based society which the world is fast becoming.
The ceremony brought together over 250 teachers from the public secondary schools across Ijesa, stakeholders in the education sector and parents of the students.
It's the first time the teachers of Grade 12 will be receiving the Tablet of Knowledge, also known as the Opón Ìmò in Yoruba language, to aid teaching and learning in schools.
The distribution is to further help the Grade 12 students who had earlier been given their Opón Ìmò to prepare for the Senior Secondary Certificate Examination.
The teachers say the device, which contains 56 textbooks recommended by the Federal Government of Nigeria, past questions for West African Examination Certificate and Joint Admission Matriculation Board examination among others, will usher in a modern method of teaching and learning which would ultimately reflect positively on the result of the students
The Opón Ìmò, "Tablet of Knowledge", is a stand-alone e-learning tablet that provides the senior secondary students with the learning materials required to prepare for school leaving examinations. It provides 3 major content categories; Text Books, Tutorials and Practice Question.
Source: Channels