UNIABUJA Student Nearly Hung Herself in Protest of ASUU Strike
---
Updated on by Olusegun Fapohunda
---
UNIABUJA Student Nearly Hung Herself in Protest of ASUU Strike: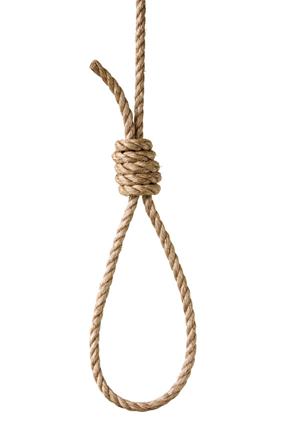 The ongoing strike of the Academic Staff Union of Universities, ASUU took a different turn on Saturday at the Dutse-Alhaji area of Abuja when a female student of the University of Abuja made to hang herself in protest of the nearly four months old strike.
The female student identified as Jane Okoro had already hanged herself, but fell off the ceiling while struggling, apparently because the rope she used was not strong enough.
Jane had sent her two younger brothers on an errand, just a way of sending them out of the house to be able to carry out the abominable act, but one of the brothers returned after 15 minutes and saw her on the floor with a rope tied round her neck while another rope dangled from the ceiling fan. The 15 year old boy raised the alarm, thinking that his sister was dead, attracting neighbours and other onlookers into their compound. However, it was discovered by those who got there first, that Jane was alive as it was only a suicide attempt.
The boy, who was identified as Andrew had told our correspondent that the sister was behaving so strange throughout that morning. He said, " She was to go to the market with my mum, but said she was not feeling too well. While we were at home with her, she refused to talk. She was always on her Blackberry. Shortly after she had her bath, she sent us to First-Gate (market), but I left some money I wanted to use to buy my personal stuff at home, so upon return, I saw her on the floor of our parlour. I even thought she was dead, so I shouted."
Meanwhile, the mother who returned from the market immediately after the news got to her had told our correspondent in tears that, her daughter must have attempted to commit suicide because of the ongoing ASUU strike. She said, I will ask her questions on why she wanted to do this to us. She has been complaining to me about this ASUU strike. She said, at her age, she should have been done with school, and begin to take care of the children and I. Her father is late. I know that only this week, she had complained to me up to 6 times on how frustrating this strike has been. I know other things may have contributed, but ASUU strike may have contributed the most; but for whatever reason, it was devilish for my daughter to have attempted suicide." She said.
Asked what she was going to do about the situation, she said " I will take her to my Pastor this evening. She needs prayers. We need somebody to talk to her. God will do the miracle for me. I didn't do anything to anybody. I must not suffer for nothing. She is already in her third year in school. What would I have done if this had happened?"
Attempt to speak with Jane failed as she could not respond to questions from our correspondent. The only statement she muttered was " It was a better option".
The mother had later asked our correspondent to leave her to rest. She said " she will talk to you after we see our Pastor. She will give the testimony herself."
However, a female friend of Jane who had pleaded not to be mentioned showed her recent conversation with Jane on her Blackberry. She said " my last chat with her was on this very ASUU strike. See what she posted, " I tire for these ASUU peopleoooo" She showed our correspondent the chat.