University of Jos, UNIJOS students protest the refusal of the management of the institution to reverse the increase in levies.
Students of the University of Jos, UniJos, Monday, barricaded all roads leading to the institution and held the management staff hostage, safe for the Vice Chancellor, Hayward Mafuyai, in protest of a raise in development levy.
The management of the university of Jos has been forced to shift its scheduled second semester examination due to the protest.
In a statement issued on Monday by the registrar of the institution, Jilly-Dandam, "Management has shifted the second semester examination from 24th of November to 1st Decemberfor obvious reasons"
"A Seven-Man Committee has also been constituted to look into the students complaints with a view to making recommendations to management for consideration.
"Students are hereby advised to remain calm and continue with their revision exercise. Management solicits the cooperation and support of all stakeholders in order to resolve all the contending issues"
President of the Students Union Government, Mr. Abel Nok, said
"We are calling for the removal of N10,000 development levy from our school fees payment.
"We are also calling for the reduction of N25,000 acceptance fees for admission.
"As I'm talking to you now, most of our properties have been destroyed as a result of us standing in the gap between the students and the school authorities."
The Vice Chancellor, Prof. Hayward Mafuyai, who spoke on the issue, wondered why the students should protest as the levy had been there for a long time
He said, "The development and acceptance levy have been there for a long time and have been fully embraced by all the stakeholders and I wonder why the protest at this time."
He however said he was meeting with representatives of the SUG to resolve the issues.
More shots below: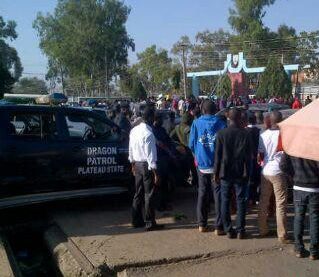 MSG Team.