Uni:nnovators 2023: A Startups-in-Residence Program by CCHub!
The Uni:nnovators Startups-in-Residence Program 2023: A Bold Collaboration between Co-Creation Hub and GIZ Make-IT in Africa.
Co-Creation Hub, in collaboration with GIZ Make-IT in Africa, presents the Uni:nnovators Startups-in-Residence Program 2023. The initiative will champion 30 student-driven innovations from Nigeria, Namibia, and Kenya, focusing on Greentech and smart city sectors like Agriculture, Energy, and Healthcare. Chosen startups will gain from intensive capacity-building, prototype mentorship, and a knowledge-sharing trip to Germany. Culminating in a summit in Nairobi, this program epitomizes the essential role of higher educational institutions in Africa's innovation landscape. Applications are open until 4th August 2023.
---
Updated on by Olusegun Fapohunda
---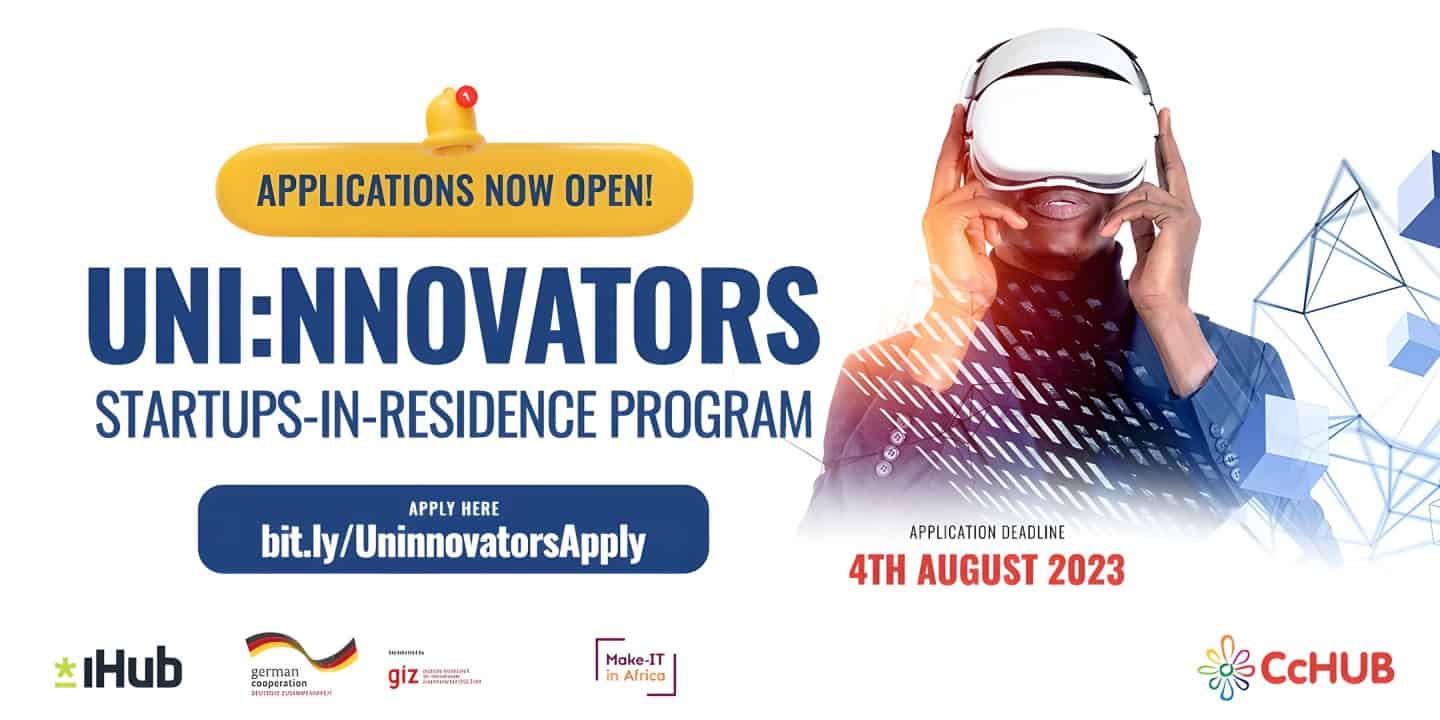 In the fast-paced realm of innovation, Africa is making strides with Co-Creation Hub's Uni:nnovators Startups-in-Residence Program for 2023. Bridging the gap between theoretical academia and actionable innovation, this programme, in concert with GIZ Make-IT in Africa, is shaping the landscape of student-led initiatives in the region.
A Pan-African Dream: The Blueprint of The Programme
The collaborative endeavour seeks to bolster the innovative prowess of 30 student-led teams from three countries: Nigeria, Namibia, and Kenya. This vision not only taps into the rich intellectual capital of these nations but also endeavours to streamline the integration of academic institutions into the burgeoning innovation milieu across Africa.
These budding innovators are poised to focus on sectors that not only fuel economic growth but also contribute to a sustainable future. These domains include:
Agriculture
Energy
Circular Economy
Water
Healthcare
Furthermore, an immersive experience awaits 18 of these teams post their pitch demonstration. This involves a valuable knowledge exchange with luminary researchers and a transformative journey to Germany for on-ground sessions — all aiming to refine their prototypes.
The ultimate reward? Funding, advisory expertise, and a platform to integrate their Minimum Viable Products (MVPs) into real-world marketplaces, thereby bridging the gap between concept and tangible utility.
The Grand Nairobi Finale
Kenya's capital, Nairobi, will play host to a two-day summit — a confluence of innovation, academia, and business. Here, the startups will not only pitch their brainchilds but will also illuminate the indispensable role that Higher Education Institutions hold in Africa's innovation cosmos.
Esteemed Educational Partners
Six notable higher education institutes across these nations are collaborating to turn this vision into a reality:
University of Ibadan (Nigeria)
University of Lagos (Nigeria)
University of Namibia (Namibia)
Namibia University of Science and Technology (Namibia)
Riara University (Kenya)
University of Nairobi (Kenya)
A Clarion Call: Eligibility Criteria
Wishing to be part of this transformative journey? Here's the checklist:
Alma Mater: Your educational home must be one of the partnering universities.
Academic Stand: Declare if you're pursuing a Bachelor's, Master's, or Doctorate.
Wanderlust Ready: A valid passport ensuring travel flexibility.
Novelty and Creativity: Seek uniqueness in your idea, preferably research-infused.
Feasibility Factor: Ensure your concept is both logical and actionable.
Thematic Alignment: Your idea should resonate with the sectors outlined in the program.
Dynamic Teams: Assemble a squad with diverse capabilities to manifest your idea.
Journey Map: Calendar of Engagements
Design Sprint (6 Weeks): Triad of workshops focusing on ideation, human-centric design solutions, and prototype creation.
Demo Day: A platform to showcase prototypes to industry maestros, with the top 18 startups progressing further.
Knowledge Voyage & German Sojourn: Connect with renowned German institutions offering research mentorship.
Industry Deployment Sprint (8 Weeks): On-campus innovation hubs to assist startups in materialising their solutions.
Grand Demo Day + Nairobi Summit: A panoramic presentation and pitch session.
Co-creation Hub ardently champions youth-led innovations in Africa, reflecting its dedication towards amplifying the continent's prosperity through modern technological solutions tailored for Africa's unique challenges.
How To Apply
Interested candidates who meet the criteria listed above should apply by clicking on the "Apply" button below:
To delve deeper: Know More
Hurry, the deadline is the 4th of August 2023!
RECOMMENDED: Check Here for More Scholarships and Opportunities.