All Hands are on Deck to End Ongoing ASUU Strike Next Week
---
Last Updated on
---
All Hands are on Deck to Ensure Universities Resume Next Week: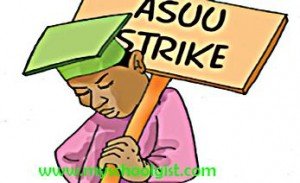 President Goodluck Jonathan will on Monday, November 4, meet with the leadership of ASUU at the Presidential Villa.
An official of the Vice President's office who pleaded anonymity told Scan News that all hands are now on deck to ensure that the Universities resume next week.
The President will at next Monday's meeting present to the ASUU leadership the administration's last concession for them to call off the prolonged strike.
A source at the Presidential Villa noted that if ASUU fails to call off, the Federal Government will then resort to plan B, which will be to compulsorily open the Universities, using the instrumentality of the governing councils and the school managements.
Already, most of the governing councils of the Universities have started meeting to work out modalities for the compulsory re-opening of the Universities should ASUU fail to honour the personal request of President Jonathan.
It was gathered that security report available to the Presidency may have necessitated this line of action to salvage the Universities system from the direction it is facing at present.
TAGGED: ASUU Strike Update