The Academic Staff Union of Polytechnics (ASUP) has been on strike for the past nine months and there has been public outcry for government and the union to reach a compromise so as to end the impasse. ASUP president, Dr. Chibuzo Asomugha spoke to some journalists on the lingering crisis and Kuni Tyessi was there for LEADERSHIP.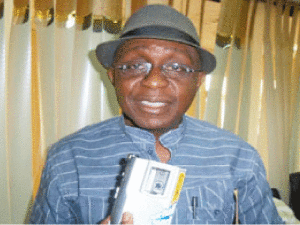 How has it been with the struggle as the ASUP president?
In one word, I would say the challenges could be described as intriguing from several angles. It has been an experience in learning, it has also been an experience in understanding how the structures of bureaucracy work in Nigeria, and on the whole it has also been a mixture of frustration and certainly suspense and failed expectations.
Polytechnics have been on strike for almost nine months now and it is clear ASUP as a union is agitating for certain things to be done, what really are the issues?
Yea, principally, the issues can be summarised in three areas generally. One, the issues go to address the strengthening of the legal and the institutional framework of Nigeria's polytechnic system. They also go to address the issue of deepening the capacity of academic personnel in Nigerian polytechnics to equip and position them properly so as to be able to meet the objectives of the agenda of training the polytechnic graduates. Thirdly also, is to really restore integrity and dignity to the products from polytechnics.
But if you look at them as individual items, we can mention some of them very clearly. For instance, in 2009 we entered an agreement with Nigerian government and that agreement provided in itself that by 2012 it would be re-negotiated and since 2012 we have been asking the government to re-negotiate the agreement it agreed to re-negotiate and up till now they've just been a mirage, government has frustrated the process.
Also, we are looking at the discrimination against polytechnic graduates in public service and generally in the Nigerian labour market and we are saying that, this system has become anachronistic in the global world now that we don't discriminate against people's career choices just because of where they went to school. Also, we are asking for proper comprehensive NEEDS assessment of Nigerian polytechnics, this hasn't been done and we know that it has been done for Nigerian universities and we are asking that government should also do that. We are also asking government to set up a commission to clearly cater for Nigerian polytechnic education just as there is a commission catering for Nigerian university education and another commission catering for colleges of education.
We are also asking for a comprehensive funding portfolio period for the polytechnics; we are also asking government, actually we have started the process but it's very slow, to review the Federal Polytechnic Act; we are also asking the government to ensure that there is parity in conditions of service in Nigerian polytechnics irrespective of who the proprietor is; we are also concerned that some of our state polytechnics have deteriorated to the extent that we can't even guarantee the quality of certificates our people are awarding in those areas.
So principally, these are some of the areas we are looking at and we are also asking government to take care of the peculiarity of the Integrated Payroll and Personnel Information System, that is the centralised payment system in such a way that it will take care of the peculiarity of the tertiary sector which government has not done and government is trying to forcefully enrol us into the system and we are trying to say no, let's do these other ones and try to see how it works out; and we are also asking government to release the white paper on the visitation that happened in federal polytechnics about one year nine months ago and that white paper is still being withheld for reasons we do not know.
So these are the areas we want the government to look at and come to terms with us and we are also talking about migration, the full funding of migration of staff on an elongated salary scale that happened in 2009 and in 2010, whereby a small number of staff were migrated and the larger majority of the staff in the polytechnics were not migrated. So, in effect what it means is that from 2009, the major cadre of staff in the polytechnics has been under-paid by the government and now we are asking the government to pay up and implement the migration properly so that people will not be short-changed any more.
Nigerians were made to understand that the 13 issues you presented to the federal government have been cut to 4 key areas. To what extent has the government fulfilled the key areas?
Let's give this issue a proper perspective because it has been an issue for government propaganda. When the supervising minister of education, Barr. Nyesom Wike said they have done 90 percent of our demands, it is practically not true. When in 2013 we came to government, we came with portfolio of 13 demands and when we started discussing with government on the 13 issues that we brought, at a point we had several stakeholders intervening and at a point the federal legislators, the joint education committees of the Senate and the House of Representatives intervened in the matter and during the negotiation predicated on their intervention, what happened was that, government now appraised the 13 issues and actually suggested that since it was not possible, because there were some of the issues we had to categorised, issues that you could resolve in the long term and issues that you could resolve in the short term, so because we were on strike, and the agreement was that everybody should do something that will immediately reopen the schools, so the government asked us if they could chose those issues that could be resolved within a short period so that we could go back to classroom while we continue discussion on the other issues. (Leadership)