Reasons for 69% of Students Failure in 2014 WASSCE
---
---
After the release of the 2014 WASSCE results, the West African Examinations Council, WAEC also released the statistics which show that, only 31% of the students that participated in the exam possesed the minimum requirement to proceed to tertiary institutions. The Vanguard School Life took the mission to find out why 69% of the students that partook in the 2014 WASSCE failed. Read the full gist as published on vanguard below.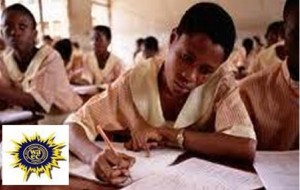 About 69% of Nigerian students who wrote the last West African Secondary School Certificate Examinations, WASSCE, failed. If this statistic is anything to judge the education sector by, it would mean that only about three out of ten students currently in the nation's secondary schools will be qualified for the tertiary level at the end of their secondary school careers.
See also:Educationists Blame Poor WAEC Result on Teachers Deficiency
It would also mean that seven out of ten Nigerian students are unqualified to leave secondary school after six years. Who is to blame for this dismal performance, and inadvertently the overall failure of the education sector?
To answer this question, Vanguard School Life, VSL, first turned to the students. A student from Command Day Secondary School who failed English Language told our reporters: 'The time given was too short, and as a result of this, I didn't finish answering the questions.' The student, who did not want her name in print, had hoped to rely on her friends to give answers to questions she didn't know. However, this was not possible. 'The invigilators were too strict,' she said, 'so I didn't have the opportunity to ask my friends for answers I didn't know.''
She wasn't the only one counting on examination malpractice. Another student, Tobi Isaac (not real name), who failed Mathematics, said he did not like the subject and knew that he was going to fail even before the examinations began. He said: 'I don't like Maths, and I also dislike my teacher, so, I didn't bother to prepare, because I already knew I would fail Maths before writing the exams. That is why I paid someone to provide me with the answers; but I was disappointed, it turned out that the person was not legitimate.'
Another candidate who also preferred to remain anonymous told VSL, "I don't have any plans to school in Nigeria; that is why I did not take the exams seriously. I want to attend a private school abroad and that just requires a lot of money.'
Yet another candidate who failed the examinations spoke to our reporters. He blamed his failure on his addiction to social media. He said: 'I was really distracted by social media. I was always fond of my phone. Even a day before examinations when some of my friends were reading, I was busy with BBM and Instagram."
Recall that a total of 529,425 candidates, representing a meagre 31.28 per cent, obtained credits in five subjects and above, including English Language and Mathematics. When compared to the 2012 and 2013 May/June WASSCE results, there was marginal decline in the performance of candidates as 38.81 per cent was recorded in 2012 and 36.57 per cent in 2013.
Mr. Mark Okoh, Principal of Caro Favoured College in Lagos, gives reasons for this decline. 'There are a lot of combined factors responsible for this' he said, 'there was less commitment on the part of the Government, teachers, as well as students.
Last year, all hands were on deck to ensure that the performance was better. I guess everyone relaxed this year because of the performance of last year. Another issue is the fact that the average Nigerian student reads for examinations. Even when the school calendar is running, students do not study. They wait till exams are around the corner and begin the fire brigade approach.'
For the Education Rights Camaign, ERC, the blame should be placed solely at the feet of the Government. In a Press statement signed by its National Coordinator, Mr. Hassan Soweto, the ERC said: 'Far from being the fault of the individual candidates, this disastrous result is a reflection of the failure of the anti-poor and capitalist neo-liberal policies of education underfunding and commercialization by government at all levels in the country. Government at all levels has pursued a relentless policy of starving public education funds such that public primary and secondary schools across the country have become devastated with little or no teaching infrastructures such that no useful learning is taking place.'
Recall that a member of the House of Representatives, Chief Yomi Ogunnusi, even traced the poor performance to erratic power supply in the country. Ogunnusi, who represents Ifako-Ijiaye constituency in Lagos, said that unstable power supply in the country was disincentive to learning, adding that it had discouraged students from studying hard.
The buck is now being passed on from power to social media, from Government to students, but the truth remains that if all stakeholders do not begin to take responsibility immediately, another blame game will begin when the next WASSCE results are released. (Vanguard)