Wike Urges State Govts to Resuscitate School Feeding Programme
---
Last Updated on
---
Wike Urges State Govts to Resuscitate School Feeding Programme: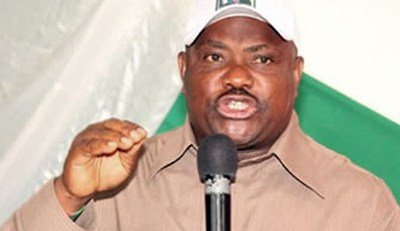 The Minister of Education, Chief Nyesom Wike, on Monday urged various state governments to resuscitate the Home Grown School Feeding Programme (HGSF) launched in 2005.
Wike, who was represented by the Permanent Secretary, Federal Ministry of Education, Dr MacJohn Nwaobiala, made the call at a round table meeting on HGSFP in Abuja.
He said the programme was in line with government's commitment to reducing hunger among Nigerian children.
The minister said the programme was important in shaping the future of children, who could face other risks such as hunger and parasitic worm infections that could lead to malnutrition and ill-health.
He said a survey by the ministry, in collaboration with UNICEF and other stakeholders, reported that 80 per cent of children in primary schools were under weight with only 14 per cent having normal weight.
He said the programme was aimed at improving their nutritional and health status, increase school enrolment, attendance, retention, completion, particularly of children in rural communities and poor urban neighbourhoods.
The minister also listed the benefits of implementing the programme as achieving gender parity through girl-child enrolment, building and strengthening capacity for effective community involvement and participation in school management.
According to him, it will also stimulate the development of Small and Medium Scale Enterprises (SME's) and contribute to reducing the incidence of poverty.
"We have to revisit the programme with a view formulating strategies that will help us to resuscitate school feeding service by re-awakening the interest of the state governments and other stakeholders," he said.
Wike called for effective collaboration and partnership to achieve the programme's set goals of implementing a sustainable feeding programme in the country.
The World Bank Representative, Prof. Don Bundy, said if the programme was effectively implemented, Nigeria was looking at feeding 1/5 of school children in Africa which was about 370 million.
Bundy said every country attempting to provide food for children in school was making efforts to keep in school and providing for its citizens a social safety net.
He said it was a universal programme with enormous benefits that "makes agricultural and economic sense".
Also in her remarks, the Executive Director, Partnership for Child Development (PCD), an NGO, Dr Lesley Drake, said it was a multi sectorial partnership for sustainable school feeding programmes which would improve the lives of children.
Drake said smallholder farmers across the country would also benefit from sales of their products. (NAN)