Babcock University Postgraduate Courses
---
Babcock University postgraduate courses – The Babcock University, Ilishan-Remo, Ogun State, College of Postgraduate Studies (CPGS) Ph.D. Degree, M.Phil /Ph.D. Degree, Master Degree and Postgraduate Diploma programmes accredited courses.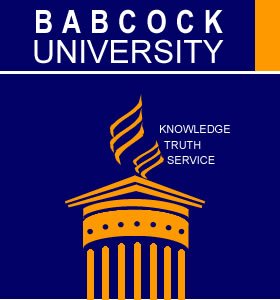 The management of the Babcock University, Ilishan-Remo, Ogun State, has advertised the following postgraduate programmes for the 2020/2021 academic session admission exercise.
Recommended: How to Apply for Babcock University Postgraduate Admission.
Babcock University Postgraduate Courses
BENJAMIN CARSON SNR. SCHOOL OF MEDICINE
Deportment: Biochemistry
Programme: Biochemistry
Degree in View: PGD, M.Sc., PhD
Areas of Specialization:
Nutritional Biochemistry
Phytomedicine and Drug Discovery
Lipid and Membrane Biochemistry
Molecular Biology and Biotechnology
Enzymology
DEPARTMENT: PHYSIOLOGY
Programme: Physiology
Degree in View: M.Sc.
SCHOOL OF COMPUTING AND ENGINEERING SCIENCES
Department: Computer Science
Programme: Computer Science
Degree in View: PGD, M.Sc., PhD
Areas of Specialization:
Software Engineering
Information Security
Artificial Intelligence
Networking and Telecommunication
Human Computer Interaction
Bio-Informatics
Information Systems
IT Project Management
Network and Cyber Security
SCHOOL OF EDUCATION AND HUMANITIES
Department: History and International Studies
Programme: Diplomatic Studies
Degree in View: MDS
Areas of Specialization:
International Organizations
Peace, Conflict and Strategic Studies
Programme: History
Degree in View: M.A
Areas of Specialization:
Economic History
Diplomatic History
African History
African Diaspora History
Strategic Studies
Department: Languages and Literary Studies
Programme: English
Degree in View: M.A, PhD
Areas of Specialization:
Language
Literature in English
Department: Religious Studies
Programme: Religious Studies
Degree in view: PGD
Areas of Specialization:
Religion and Pastoral Ministry
SCHOOL OF LAW AND SECURITY STUDIES
Department: Law
Programme: Law
Degree in view: LLM, PhD
SCHOOL OF MANAGEMENT SCIENCES
Department: Accounting
Programme: Accounting
Degree in View: PGD, M.Sc., PhD
Areas of Specialization:
Financial Reporting and Ethics
Public Sector Accounting & Finance/Taxation and Fiscal Policy
Management Accounting
Strategic Financial Management
Department: Business Administration and Marketing
Programme: Business Administration
Degree in View: PGD, MBA, M.Sc., PhD
Areas of Specialization:
Operations/Production Management
Entrepreneurship and Small Business Management
Human Resources Management
Strategic Management
Airlines and Travel Management
Security Management
Programme: Marketing
Degree in View: M.Sc., PhD
Areas of Specialization:
Strategic Marketing Management
Marketing Communication
International Marketing
Consumer Behaviour
Department: Banking and Finance
Programme: Finance
Degree in View: PGD, M.Sc./ACIB
Areas of Specialization:
International Finance
Corporate Sector Finance
Department: Information Resources Management
Programme: Information Resources Management
Degree in View: PGD, M.Sc., PhD
Areas of Specialization:
Business Information Management
Records and Archives Management
Knowledge and Innovation Management
Health Information Management
Library and Information Science
ICT in Information Resources Management
SCHOOL OF NURSING SCIENCE
Department: Nursing Science
Programme: Nursing Science
Degree in view: M.Sc.,, PhD
Areas of Specialization:
Maternal Child Health Nursing
Adult Health Nursing (Medical-Surgical)
Community/Public Health Nursing
Psychiatric/Mental Health Nursing
SCHOOL OF PUBLIC AND ALLIED HEALTH
Department: Public Health
Programme: Public Health
Degree in View: PGD, MPH, PhD
Area of Specialization:
Environmental and Occupational Health
Epidemiology
Health Promotion
Health Service Administration, Management and Policy
Nutrition
Population and Reproductive Health
Preventive Health Care
SCHOOL OF SCIENCE AND TECHNOLOGY
Department: Agriculture
Programme: Agricultural Economics
Degree in View: M.Sc.,, PhD
Programme: Agronomy
Degree in View: M.Sc., PhD
Areas of Specialization:
Agro-Forestry
Plant Breeding
Horticulture
Soil Science
Crop Biotechnology
Programme: Animal Science
Degree in View: M.Sc., PhD
Areas of Specialization:
Animal Nutrition
Animal Production and Management
Animal Breeding and Genetics
Department: Microbiology
Programme: Microbiology
Degree in View: PGD, M.Sc., PhD
Areas of Specialization:
Medical/Pharmaceutical Microbiology
Environmental Microbiology
Industrial/Food Microbiology
VERONICA ADELEKE SCHOOL OF SOCIAL SCIENCES
Department: Economics
Programme: Economics
Degree in View: PGD, M.Sc., PhD
Department: Mass Communication
Programme: Mass Communication
Degree in View: PGD, M.Sc., PhD
Areas of Specialization:
Journalism and Publishing Studies
Broadcasting
Public Relations and Advertising
Development Communication
Department: Political Science and Public Administration
Programme: Political Science
Degree in View: M.Sc., PhD
Areas of Specialization:
International Relations
Public Administration
Local Government Administration
Peace and Conflict Studies
Law and Diplomacy
Programme: Public Management
Degree in View: MPM, (Masters in Public Management)
Areas of Specialization:
Human Resource Management
Leadership
Corporate Governance
Local Government Management
Public Sector Management
Management of Non-Governmental Organizations