Join the DHL GoTrade GBSN Fellowship 2024
Are you a postgrad with a knack for business and a heart for global impact? The DHL GoTrade GBSN Fellowship Program 2024 is calling your name! This unique program pairs students like you with SMEs in developing countries for 12 months. It's all about fostering cross-border trade and learning from the best. Imagine gaining hands-on experience while being guided by DPDHL mentors. Curious to find out more and how you can apply? Keep reading!
---
---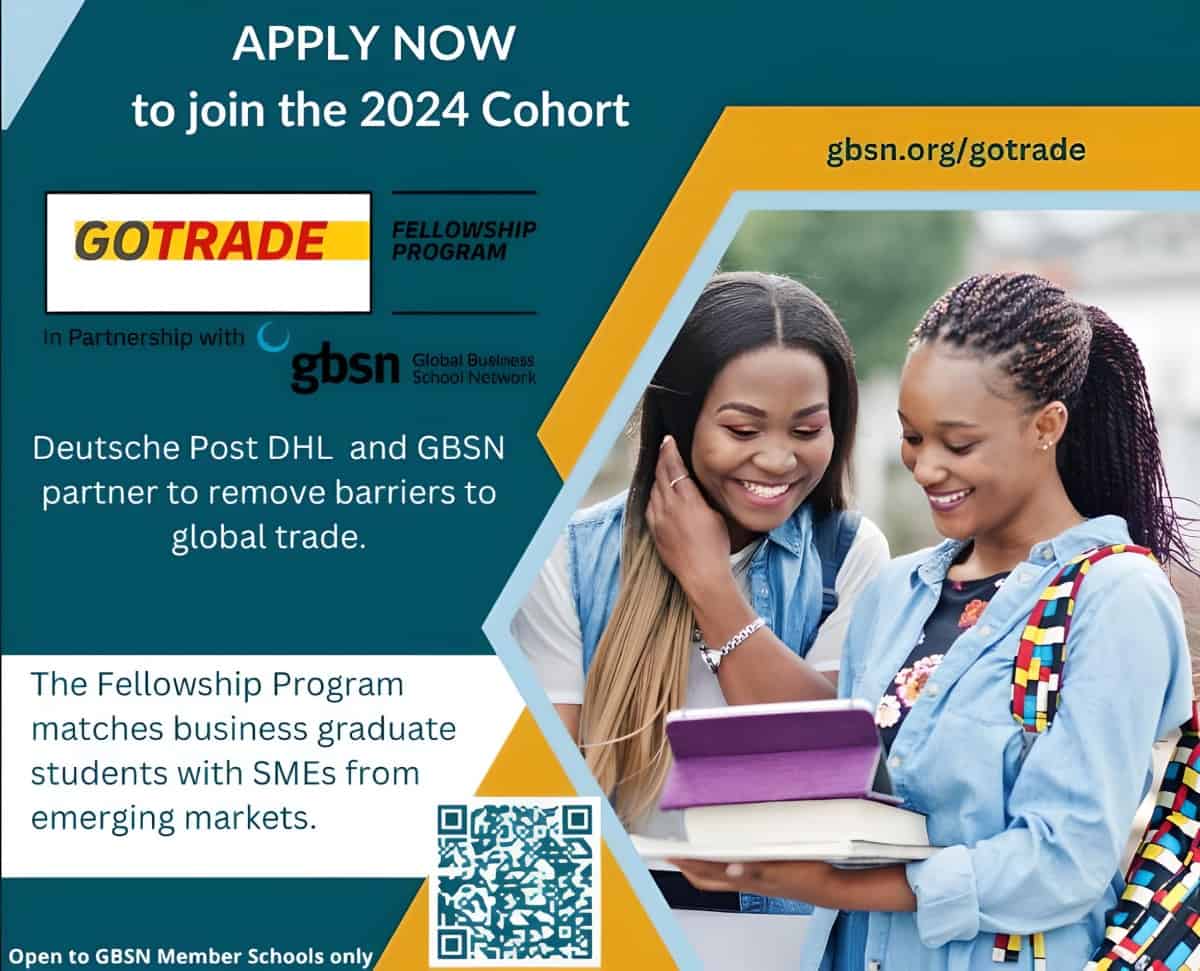 Are you a postgraduate business student looking for an unparalleled learning and growth opportunity? The DHL GoTrade GBSN Fellowship Program for 2024 might just be what you need. This program is a collaboration between GBSN and DPDHL, focusing on enhancing management and entrepreneurial education.
About the Fellowship Program
Objective and Scope
The GoTrade GBSN Fellowship Program is crafted to link postgraduate business students with small and medium-sized enterprises (SMEs) in the developing world. The aim? To boost cross-border trade and provide quality, locally relevant management and entrepreneurial education.
Pairing Students and SMEs
As a fellow, you will be:
Partnered with an SME for

12 months

.
Involved in advising, consulting, and collaborating with your assigned SME.
Participating in regular virtual sessions with industry experts and fellow students to enhance your learning and networking opportunities.
Support and Learning
During the fellowship, you will receive:
Mentorship from experienced DPDHL professionals.
Coaching and mentoring sessions with SMEs.
A DPDHL Certified Program journey covering the basics of international trade.
Eligibility Criteria
Who Can Apply?
The program welcomes applications from graduate students globally who:
Are enrolled at a GBSN member school at the start of the fellowship.
Can commit to a 12-month program starting April 2024.
Are comfortable communicating in English, Spanish, or Portuguese.
Can dedicate approximately 12 to 15 hours per month.
Have proven work experience and strong analytical skills.
Possess an entrepreneurial and proactive mindset.
Show interest in joining an international community.
Application Process
How to Apply
Ready to take the plunge? To apply, you'll need to:
Provide a professional photo or headshot.
Submit a concise CV or resume (max 2 pages).
Create a short introduction video (max 2 minutes) uploaded to a streaming platform like YouTube or Vimeo. Ensure the video is unlisted, not private. Share the link with us in your application.
Apply here: DHL GoTrade GBSN Fellowship Application
For more information about the fellowship, visit DHL GoTrade GBSN Fellowship Program.
Application Deadline
Don't miss out! The deadline for applications is November 30, 2023.
Why Join the GoTrade GBSN Fellowship?
This fellowship is more than just an educational program. It's an opportunity to:
Gain real-world experience in international trade.
Develop valuable business skills and insights.
Network with professionals and peers from around the world.
Make a tangible impact in the developing business world.
Conclusion
If you're passionate about business, international trade, and global impact, the DHL GoTrade GBSN Fellowship Program 2024 is a perfect fit. This program offers a unique blend of practical experience and educational growth, setting you up for success in your future career.
Ready to embark on this exciting journey? Apply now and mark November 30, 2023, on your calendar!
RECOMMENDED: Check Here for More Scholarships and Opportunities.