Federal University of Technology, Owerri, FUTO returning students procedure for the 2016/2017 academic session.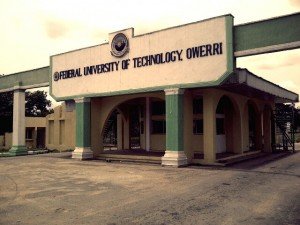 This is to inform all the returning students of the Federal University of Technology, Owerri (FUTO) that the management of the institution has released the registration procedure for the 2016/2017 academic session.
FUTO Returning Students Registration Procedure
A. STUDENT PORTAL ACCOUNT VERIFICATION.
Visit the University website; www.futo.edu.ng
Click on the link "Portal"
Click on verify your account link to create login details.
Select "student type" then enter your Matriculation number.
Click on submit button to verify your account
Get the Account Notification slip bearing your login details with the Matriculation number as the default username and password
B. PROFILE DETAILS
i. Change password
Enter your username and password and click on the Login button.
Click on change password to change your password.
Enter the old password and the new password, confirm new password.
Click change password button.
ii. Fill Profile
Click the profile details menu and selects the fill the profile details menu
Complete the profile and click the Submit Button
Ensure you Update your Level to the current Level
Print the Student profile information page
C. SCHOOL FEES PAYMENT PROCESS
Login to the portal with your username and password
Click on "Pay School fees" to generate your payment invoice
Select the required session and level for payment
Print your payment invoice contain the RRR code and proceed to any bank for payment.
After successful payment in bank, return to the portal www.portal.futo.edu.ng and login with your account details to print FUTO school fees e-receipt with the RRR code on the invoice.
i. Online School fees eReceipt
Click the "Pay School Fees" menu
Enter the required payment details
Print the School Fees Receipt
D. HOSTEL ALLOCATION
Click the hostel allocation menu
Click on "Generate Hotel reservation"
Enter the required details
Select the Hostel type
Generate Hostel Allocation payment invoice
Proceed to FUTO MFB for payment with the generated payment invoice.
After successful payment in bank, return to the portal with the ePin generated in bank.
Click on "Print Hostel reservation receipt" to print the allocated ROOM.
Print the allocated room on the receipt and proceed to Student Affairs Unit further clearance.
E. COURSE REGISTRATION
Click the course registration menu and select the Register Courses menu.
Select the session and semester and click the submit button.
Select your courses for that semester and click the submit button, Print the registered courses
F. RESULTS
Click the Result menu and select the view result menu.
Select the semester and session and click the submit button
Print the online semester result slip.
G. SIGN OUT
Click the close menu, this takes you back to Login page.
For further enquires contact ICT Centre, or send an email to ict@futo.edu.ng.
MSG Team.