List of GUU (Gregory University Uturu ) Degree Courses
---
Gregory University Courses – See the list of degree courses offered by the Gregory University, Uturu (GUU).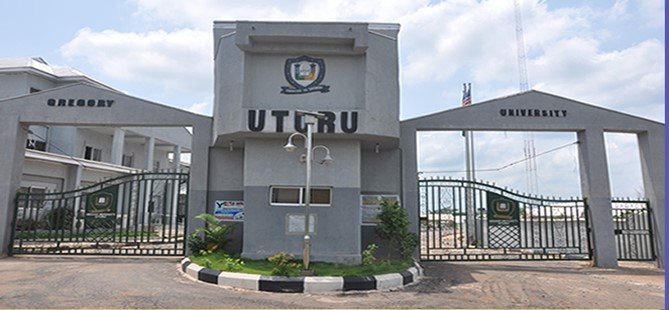 Gregory University, Uturu (GUU) is one of the private universities in Nigeria that offers diverse undergraduate programmes. The university is located in Abia State.
Gregory University, Uturu (GUU) has been officially accredited and/or recognized by the National Universities Commission (NUC), Nigeria.
Below is the list of high-quality courses on offer at the Gregory University, Uturu (GUU).
See: Gregory University Post-UTME Form.
Gregory University, Uturu (GUU) Courses
ACCOUNTING
AGRICULTURE
ANATOMY
ARCHITECTURE
BANKING AND FINANCE
BIOCHEMISTRY
BIOLOGY
BUSINESS ADMINISTRATION
BUSINESS EDUCATION
CHEMICAL ENGINEERING:
CHEMISTRY
CIVIL ENGINEERING
COMPUTER ENGINEERING:
COMPUTER SCIENCE
ECONOMICS
EDUCATION AND BIOLOGY
EDUCATION AND CHEMISTRY:
EDUCATION AND ENGLISH LANGUAGE
EDUCATION AND FRENCH:
EDUCATION AND MATHEMATICS
ELECTRICAL/ELECTRONICS ENGINEERING
ENGLISH AND LITERARY STUDIES
ESTATE MANAGEMENT
FRENCH
GEOLOGY
GUIDANCE AND COUNSELLING
HISTORY AND INTERNATIONAL STUDIES
HOTEL MANAGEMENT AND TOURISM
INSURANCE
INTERNATIONAL RELATIONS
LAW
LITERATURE IN ENGLISH
MARKETING
MASS COMMUNICATION
MATHEMATICS
MECHANICAL ENGINEERING
MEDICAL BIOCHEMISTRY
MEDICAL LABORATORY SCIENCE:
MEDICINE AND SURGERY
MICROBIOLOGY
NURSING/NURSING SCIENCE
OPTOMETRY
PERSONNEL MANAGEMENT
PETROLEUM ENGINEERING
PHARMACY
PHYSICAL AND HEALTH EDUCATION
PHYSICS
PHYSIOLOGY
PHYSIOTHERAPY
POLITICAL SCIENCE
PUBLIC HEALTH
QUANTITY SURVEYING
RADIOGRAPHY AND RADIATION SCIENCE
SOCIOLOGY
STATISTICS
SURVEYING AND GEOINFORMATICS
TEACHER EDUCATION SCIENCE:
THEATRE ARTS
URBAN AND REGIONAL PLANNING:
Also Check:
About Gregory University, Uturu (GUU)
Gregory University, Uturu (GUU) was licensed in February 2012 by the Federal Government of Nigeria as a Private University and took-off with its pioneer students in October of the same year for the 2012/2013 academic session.
Gregory University is more than the conventional citadel of learning or temple of intellect. It was founded to be a star in the global academic arena where knowledge generation, advancement and application to drive national and global economies and where the issues of human perfection through higher education to attain the good life are uncompromisingly pursued. Consequently, the motto of GUU is "Knowledge for Tomorrow".
See also: Gregory University School Fees Schedule.
TAGGED: gregoryuniversityuturu.edu.ng | Gregory University Uturu : GUU
Use the Drop Down Below to View Courses offered by other accreditted Nigerian Universities