Information to TASUED Graduating Students of 2012/2013 Set
---
Last Updated on
---
Below is an important information released by the management of the Tai Solarin University of Education (TASUED) to all her 2012/2013 set graduating students.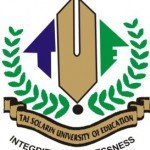 All graduating students ( Mobilized and yet to be Mobilized) are hereby requested to visit the ICT Center between 7th and 18th July,2014 for the verification of their payment receipts ( 100-400 level) as scheduled below:
1. COAEVOT – 7TH -8TH July,2014
2. COSMAS – 9TH -11TH July, 2014
3. COSIT –  14TH – 16TH July,2014
4. COHUM – 17TH -18TH July,2014
Please note that this verification is important for the release of call up letters.
Thanks
Management
TAGGED: www.tasued.edu.ng | Tai Solarin University of Education : TASUED