LASU Conversion Degree Programme Form 2021/2022
---
Last updated on by Olusegun Fapohunda
---
Lagos State University (LASU) is now selling application forms for admission into its Degree/HND/Professional Certificates Conversion Top-Up Programme for the 2021/2022 academic session. See the requirements and how to apply for LASU Conversion Top-Up form below.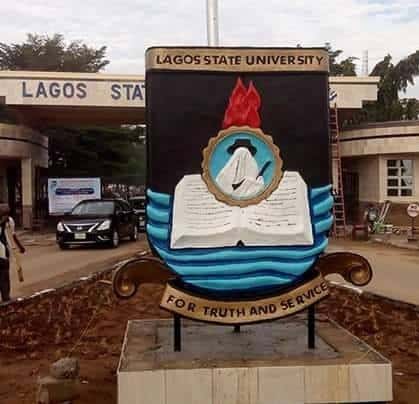 Lagos State University School of Part-Time Studies hereby invites applications from suitably qualified candidates for the Lagos State University 2021/2022 Conversion of ND/Professional Certificate Conversion Top-Up Degree Programme.
The HND/Professional Certificate Conversion Top-Up Degree Programme addresses the dichotomy between B.Sc and HND Certificate Holders. The primary aim is to provide a level playing field through a Bachelor's degree programme to those determined to beat discrimination between University degrees and HND holders.
This programme also provides a platform on which a university degree holder, hitherto dissatisfied with his/her class of degree, could "top-up" and come out better.
In the same vein, a holder of a University Degree who may wish to cross into any other related discipline is afforded the opportunity through this programme. Ultimately, the programme is designed to promote self-actualisation and imbue professional fulfilment with
dignity.
LASU Degree and HND Conversion Top-Up Programme Courses & Admission Requirements
AVAILABLE PROGRAMMES:
Accounting
Business Administration
Banking and Finance
Insurance
Industrial Relations and Personnel Management
Public Administration
Marketing
Mass Communication
Computer Science
Economics
Geography

Project Management Technology
REQUIREMENTS: Candidates seeking admission into LASU HND/Professional Certificate Conversion top-up programme should visit www.lasu.edu.ng for full details and admission requirements for the individual programme.
How to Apply for LASU Conversion Top-Up Programme Admission Form
Please visit http://lasu.edu.ng/epayment to make e-payment of a non-refundable fee of Fifteen Thousand Naira (N15,000.00) to access the application form. You are required to fill the form, upload credentials and submit form online, after which you will be invited for screening, if qualified.
An Acceptance Fee of Thirty Thousand Naira (N30,000.00) and Medical Fees of Twenty Thousand Naira (N20,000.00) must be paid immediately
CLOSING DATE: Six [6] weeks from the date of this publication.
DISCLAIMER
Any applicant who pays money to any individual/other account or through other means aside from the one above, does so, to his/her own disadvantage.
Prospective candidates are hereby requested to visit the University Website: www.lasu.edu.ng for details on the programme.
Specific Admission Requirements:
Note to Mobile users: Scroll to the side to view all the contents in the table below:
FACULTY OF MANAGEMENT SCIENCE
Programme

O' Level Requirement

Degree Requirement (HND and 3rd Class Degree)

Professional

Qualification

Accounting
Five (5) credits in the Senior Secondary School Certificate Examination credits or General Certificate of Education or its equivalent, which must include English Language and Mathematics and any other three recommended subjects at a maximum of two sittings.
1. Candidates with a minimum of lower credit in HND (Higher National Diploma) in Accounting, Banking & Finance, Business Administration, Insurance and other related field
2. Candidates with 3rd Class Degree in related field from any other recognized University
Holders of certificate from recognised professional bodies such as Institute of Chartered Accountant of Nigeria (ICAN), Chartered Institute of Taxation of Nigeria (CITN), Association of National Accountant of Nigeria (ANAN), Chartered Institute of Bankers of Nigeria (CIBN) and any other related field
Banking and Finance
Five (5) credits in the Senior Secondary School Certificate Examination credits which must include English Language Mathematics, Economics and any other two relevant subjects which could be from the following: Accounting, Principles of Accounts, Commerce and Office Practice at a maximum of two sittings.
1. Candidates with a minimum of lower credit in HND (Higher National Diploma) in Banking and Finance, Business Administration, Insurance and other related field
2. Candidates with 3rd Class Degree in related field from any other recognized University
Holders of certificate from recognised professional bodies such as Chartered Institute of Bankers of Nigeria (CIBN) Institute of Chartered Accountant of Nigeria (ICAN), Chartered Institute of Taxation of Nigeria (CITN), Association of National Accountant of Nigeria (ANAN), and any other related field
BusinessAdministration
Five O-Level credit passes including English Language, Mathematics and any three relevant subjects from Commerce, Economics,Accounting, Government, Geography at not more than two sittings.
1. Candidates with a minimum of lower credit in HND (Higher National Diploma) in Business Administration, Marketing, SecretarialStudies and other related field
2. Candidates with 3rd Class Degree in related field from any other recognized University
Holders of certificate from a recognised professional bodies such as the cognate field Chartered Institute of Personnel Management (CIPM),Chartered Institute of Administration (CIA), Nigerian Chartered Institute of Management (NCIM), Institute of Chartered Accountant of Nigeria (ICAN), Nigerian Chartered Institute of Management (NCIM) and any other related field
Insurance
Five O-Level credit passes including English Language, Mathematics, Economics, plus any two accounting. Business Method, Commerce, Government, Geography, and Statistics.
1. Candidates with a minimum of lower credit in HND (Higher National Diploma) in Actuarial Science, Account, Banking & Finance, Business Administration Insurance and other related field
2. Candidates with 3rd Class Degree in related field from any other recognized University
Holders of certificate from recognised professional bodies such as Chartered Insurance Institute of Nigeria (CIIN), Institute of Chartered Accountant (ICAN), Chartered Institute of Banking of Nigeria (CIBN), Association of National Accountant of Nigeria (ANAN), and any other related field
Industrial Relations and Personnel Management
Five (5) credits in the SSCE, credit in GCE or its equivalent, which must include English Language and Mathematics and any other three, recommended subjects depending on the area of study, at a maximum of two sittings to include. Government, Economics /Commerce.
1. Candidates with a minimum of lower credit in HND (Higher National Diploma) in Accounting, Business Administration, Public Administration, Marketing insurance, Secretariat Studies, Cooperative Studies, Purchasing & Supply and other related field
2. Candidates with 3rd Class Degree in related field from any other recognized University
Holders of certificate from recognised professional bodies such as (CIPM) – Chartered Institute of Personnel Management,Chartered Institute of Administration (CIA), Nigerian Chartered Institute of Management (NCIM), Institute of Chartered Accountant of Nigeria (ICAN) and any other related field
Marketing
Five 'O' Level Credit Passes Including English Language, Mathematics And anyother three from the following subjects Economics, Commerce Accounts/Book Keeping, Geography, Government.
1. Candidates with a minimum of lower credit in HND (Higher National Diploma) in Accounting, Business Administration, Insurance, Marketing and other related field.
2. Candidates with 3rd Class Degree in related field from any other recognized University
Holders of certificate from recognised professional bodies such as Chartered Institute of Marketing CIM), Chartered Institute of Advertising (CIA), CharteredInstitute of Banking of Nigeria (CIBN) and any other related field
PublicAdministration
Five (5) credits in the SSCE, credit in GCE or its equivalent, which must include English Language and Mathematics and any other three, recommended subjects depending on the area of study, at a maximum of two sittings to include, Government, Economics /Commerce.
1. Candidates with a minimum of lower credit in HND (Higher National Diploma) in Accounting and Business Administration and other related field
2. Candidates with 3rd Class Degree in related field from any other recognized University
Holders of certificate from recognised professional bodies such as Chartered Institute of Personnel Management (CIPM), Chartered Institute of Personnel Management (CIPM), Chartered Institute of Administration (CIA), Nigerian Chartered Institute of Management (NCIM), Institute of Chartered Accountant of Nigeria (ICAN),and any other related field
SCHOOL OF MASS COMMUNICATION
Programme

O' Level Requirement

HND Requirement

Professional

Qualification

MassCommunication
Five (5) SSCE credit passes in English Language and four (4) other subjects in Arts or Social Sciences.
1. Candidates with a minimum of lower credit in HND (Higher National Diploma) in Mass Communication, Jornalism and other related field.
2. Candidates with 3rd Class Degree in related field from any other recognized University
Holders of certificate from recognised professional bodies such as Chartered Institute of Marketing (CIM), Chartered Institute of Advertising (CIA) and other related field
FACULTY OF SCIENCE
Programme

O' Level Requirement

HND Requirement

ComputerScience
Five (5) credits in the Senior Secondary School Certificate Examination or General Certificate of Education or its equivalent which must include English Language and Mathematics and any other three recommended subjects depending on the area of study, at a maximum of two sittings.

1.

Candidates with a minimum of lower credit in HND (Higher National Diploma) in Computer Science and other related field


2.

Candidates with 3rd Class Degree in related field from any other recognized University
FACULTY OF SOCIAL SCIENCE
Programme

O' Level Requirement

HND Requirement

Economics
Five O-Level credits in English Language, Economics, Maths and any other two subjects.
1. Candidates with a minimum of lower credit in HND (Higher National Diploma) in related field such as Accounting, Business Administration, Marketing, Purchasing & Supply.
2. Candidates with 3rd Class Degree in related field from any other recognized University
Geography
Five O-Level credits in English Language, Math, Geography and any other two subjects from arts or social sciences
1. Candidates with a minimum of lower credit in HND (Higher National Diploma) in Geology and other related field
2. Candidates with 3rd Class Degree in related field from any other recognized University
Ace Your Exams: Join Our Online Classes For JAMB, WAEC, NECO & NABTEB Candidates